Popcaan is getting ready to release his new album, Great Is He, and the artist is busy putting in the work as he features his adopted home Ghana in a new music video for his album.
On Tuesday, several videos from a music video shoot in Ghana surfaced on social media. The dancehall artist, decked out in his heft chains and Rolex watch, was seen posing on a tricycle with more than half a dozen beautiful, voluptuous women sitting behind him. Some of the women are seen wearing traditional Ghanian-styled clothing and are decked out in elaborate beads on the head and their body, while some are seen in very western garb.
"Only the gal them," someone can be heard telling him as he smirks approvingly.
The tricycle featured full Gucci plastering, while the bike Popcaan sat on also had the luxury brand's logo covered over.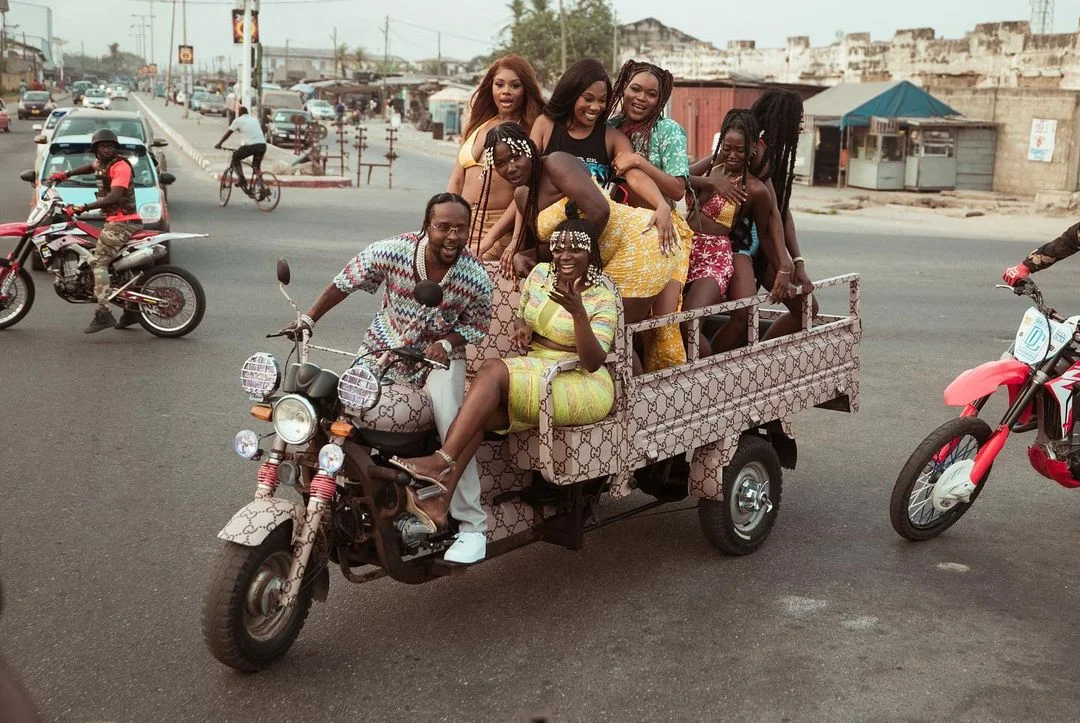 Popcaan also shared several videos that he is in Ghana, including videos shared by others on Instagram. In one video, the St. Thomas bred artist is seen surrounded by a throng of people while he waits in the streets. He was also seen riding the motorcycle that was attached to the cart with women turning it into a Gucci tricycle while bike riders performing stunts rode next to him as other tricycles rode before him and behind him.
A video of him wearing a new tie-dye outfit in what appears to be his luxurious home in Ghana. The rapper shared in a video in 2020 that he had purchased a U$5.5 million dollar home. "Over Africa wicked man ting. Mi jus buy mi brand new house in Ghana. Yuh haffi have house everyweh!"
Elsewhere on Instagram, Popcaan shared updates on the album, which is set to drop in 10 days. In one post, he shared several photos of him in studio recording and had a caption of gratitude. "Dear Dog, Thank you for life. Smiling through it all no matter what," he wrote.
Popcaan will be in Ghana for about a week before returning to Jamaica for his Great Is He album launch. According to Drake, the album will be the first project released on the OVO Sound label this year, with much more to come, including likely projects from the OVO leader.
Great Is He is set for release on January 27th.
Check out more photos from Popcaan music video set in Accra, Ghana.