Kranium and Rvssian told no lies when they say Celine Dion is perhaps the queen of music in Jamaica.
Celine Dion fans staged a protest on Friday at Rolling Stone's office in New York City as they expressed displeasure at the publication's recent 200 Greatest Singers of All Time. A video of fans outside of the office holding placards was shared online on Friday afternoon. The fans were upset that Celine Dion had been left off of the latest list, which named Aretha Franklin the Greatest Singer and even included the likes of Burna Boy and others but not Celine Dion.
Fans had initially criticized the list released at the top of the year, but it seems that Rolling Stone's silence on the matter caused fans to turn up and demand explanations and changes. According to TMZ, fans of the Canadian singer chanted, "Rolling Stone is stoned," and they called for staff to explain the choices and demanded Celine be added.
The protest was organized by Canadian television personality Julie Snyder who wanted the artist to be recognized on the list and the publication should also apologize for the snub. There are reports that Rolling Stone editor Steven Pearl also spoke to protesters, but the publication has not said whether it would be changing the listing.
In the meantime, many of Celine's fans, including several Jamaican entertainers, offered support for Celine. The Canadian artist is regarded as an honourary citizen by her Jamaican fans.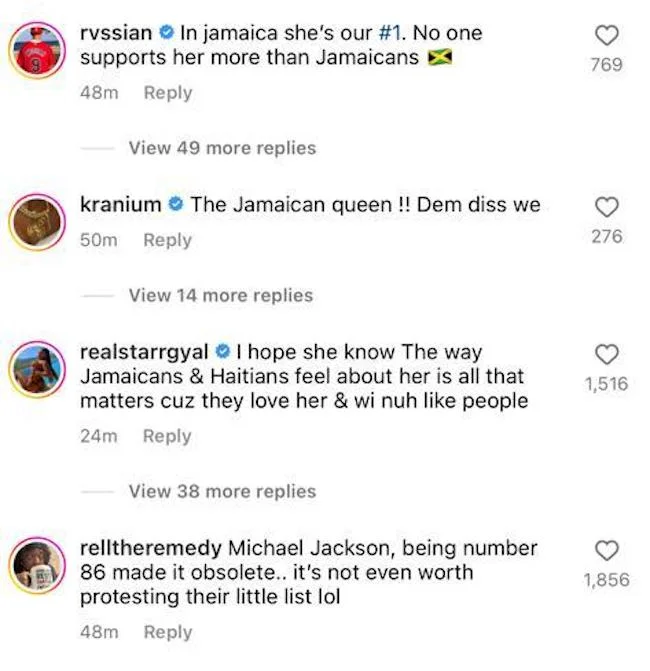 Interscope producer Rvssian wrote on Instagram, "in Jamaica she's our #1. No one supports her more than Jamaicans." Dancehall artist Kranium also agreed the soulful singer was disrespected. "The Jamaican queen !! Dem diss we," he wrote.
"I hope she know The way Jamaicans & Haitians feel about her is all that matters cuz they love her & wi nuh like people," Starr wrote.
Several other Jamaicans voiced their support for the Canadian music icon whose music is a staple in reggae land. "Outside of reggae and dancehall artists, Celine Dion is probably the most listen to artist in Jamaica her music is a weekend staple am telling you," one female wrote.
Others, like Kandi Buruss, wrote, "Celine should be in the top 10."