Dancehall entertainers Demarco and Masicka are once again at each other's throats after throwing shades at each other on Instagram.
It started with Masicka uploading a now-deleted post showing a 2014 On Stage interview where Demarco suggested that he should start his own brand of nylon fishing string because he is too "hard to buss" or breakout.
The "Image" singer captioned the post, "Me nuh really waa give you nuh hype but don't ever count out ghetto youths," before asking, "@demarcodadon you still sing?" He completed the post with a couple of laughing emoticons.
Demarco provided a calm but calculated response to Masicka's comment by congratulating him on reaching almost 300,000 listeners while he is almost at 500,000 on Spotify. In what can be seen as a sarcastic tone, inciting that Masicka has a lot more work to do, he wrote, "You're getting there me artist. 283k listeners."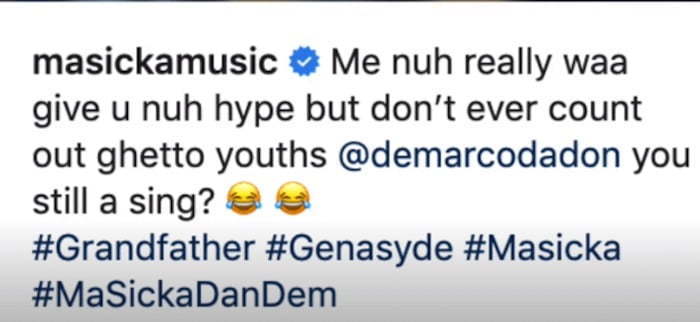 The "Puppy Tail" deejay then revealed that the Genasyde Boss contacted him via social media to let him know that he was one of his motivators. While we are unsure of the exact message, it could be that Masicka was simply using the negativity Demarco tossed at him in 2014 to inspire him to be a better artiste. However, only after analyzing the exact message, will we be able to fully grasp what Masicka sent to Demarco.
"You a bad artist from long time everybody get there time. A 6SIX Dem an Intence, Iwata, Govana time now," continued Demarco before advising Masicka that his career has already peaked and his should now do as he as done and simply maintain his career.
The "True Friend" singer continued his timely response by quoting a line frequently used by Popcaan, "Numbers don't lie," while directing the "Chance" deejay to the screenshot of his Spotify views mentioned earlier.
He concludes the post by wishing Masicka all the best before confirming that he is indeed still making music and getting the love he deserves, even though there is not much mention of him in the media.
"Be great me deejay, yea mi deejay mi still a sing #Talentovahype," he pens while dropping a few laughing emojis.
The rivalry between both men began during the 2014 staging of Sting when a scuffle broke out between members of each artiste's crew. Apart from a few diss tracks in the months to follow, the beef went cold shortly after. It would be interesting to know what inspired Masicka to wage an attack on Demarco.