Quavo had no that his viral video would land Migos a deal with fast-food chain Popeyes.
The Atlanta rap group isn't all about flossing, tattoos, style, bling, and swag, Till now, we hardly knew much of Migos' new partnership with Popeyes and Uber Eats, to deliver a custom Migos Menu. It turns out, this is what it is. The buildup to the deal was right after Popeyes added a chicken sandwich to their menu last August. To everyone's surprise, the new item sold out and raised lots of attention online. Several viral videos showing scenes of fistfights, and long lines marked the release. Quavo jumped onto the hype and tried selling sandwiches off his trunk at $1000 each.
Quavos' viral Instagram video attracted Popeyes, who decided to give the trio their own custom menu. Details of how they inked the deal emerged from Quavo's recent TMZ interview. Of course, the Migos Menu costs way less than the $1000 apiece trunk sale.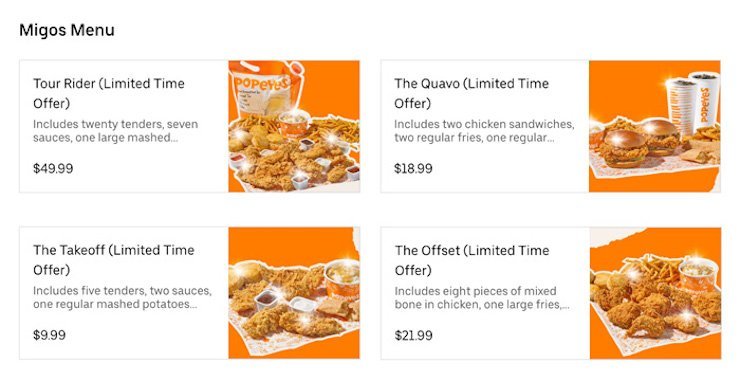 It comprises four different meal options that will be available on Uber Eats as of December 6 to January 2 – Rider, Offset, Takeoff and Quavo. The highly relished chicken sandwich is also included. A look at the prices below shows how you enjoy the curated menu items while on a budget.
Tour Rider, goes for $46.99 and comprises 20 tenders, 7 sauces, a large mashed potato lined with gravy, double fries (large), 5 biscuits, and a gallon of lemonade. The Offset, price begins at $21.99 and comprises eight pieces of a bone-in-chicken meal, one pack of fries(large), one large potato dripped in gravy, and 4 biscuits. The Takeoff, price at $9.99, comprising 2 sauces, mashed potatoes(regular), an apple pie, and two biscuits. The Quavo, starting at $17.99, and comprising 2 fries (regular), one regular mashed potatoes with gravy, two drinks, and two apple pies.