Summer Walker is calling out a promoter who allegedly lied to fans about her show after she got booed.
Summer Walker keeps finding herself in the midst of controversy since her debut album dropped in October. After canceling several tour dates and responding to criticism of her low-energy performances and even showing up late in certain cities, she's found herself on the defense once again, this time against a club promoter in New Jersey. Apparently, the Over It singer was booked to do a club appearance or "walk through" at a local club, but fans were expecting a full performance.
Once video emerged of Summer standing on a couch in sweatpants barely singing, fans in attendance and on social media were upset with her demeanor. "Aye look, y'all gotta stop letting these promoters finesse y'all," Summer wrote on Instagram after the incident. "I DO NOT, "I REPEAT DO NOT" sing on couches. Put some respect on my name." She told fans if they wanted to see her perform, they can attend her formal tour dates or catch her on Jimmy Fallon on Dec. 9. "Hey reading is fundamental, there was nothing on there about no "performance," she said.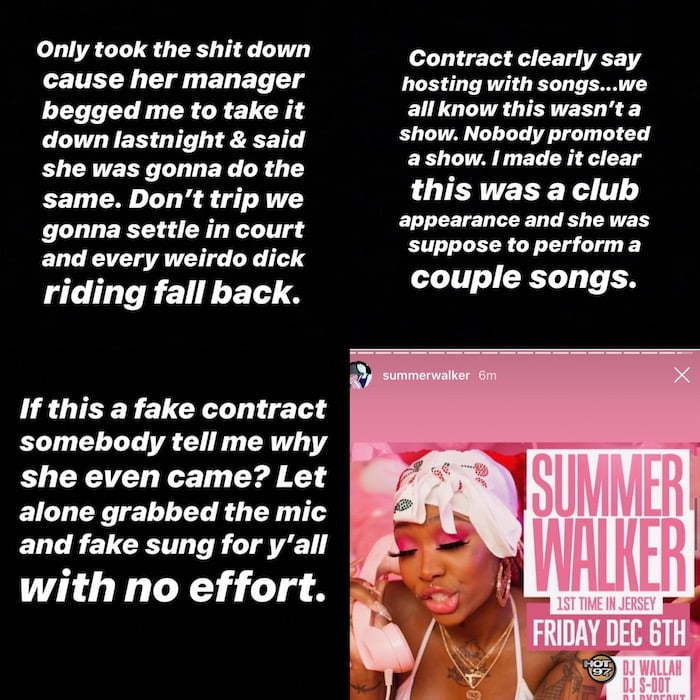 But the promoter in question told a different version of the events and posted the contract agreement between he and Summer. The document shows the songstress allegedly agreed to host the party and perform 2-3 songs. Summer later said the contract he posted was fake. "If this is a fake contract tell me why she even came? Let alone grabbed the mic for y'all with no effort," he replied.
The promoter claimed he made it clear it was a club appearance and not a show, but did expect Summer to perform. He then threatened to take legal action. "Keeping it 100 She got boo'd and tried to blame me that I didn't book her for a show. We all know she wasn't booked for a show. (As to why my date wasn't on her tour list) If you know the business you know it's a difference between a show and a hosting with songs," he said.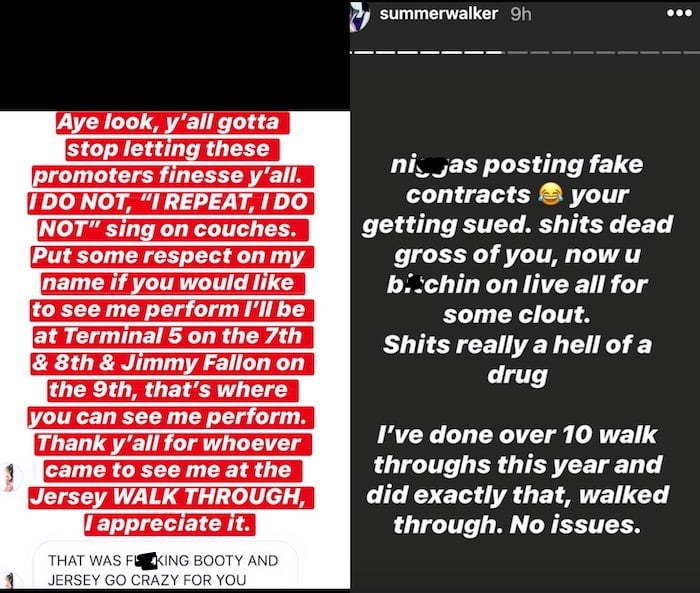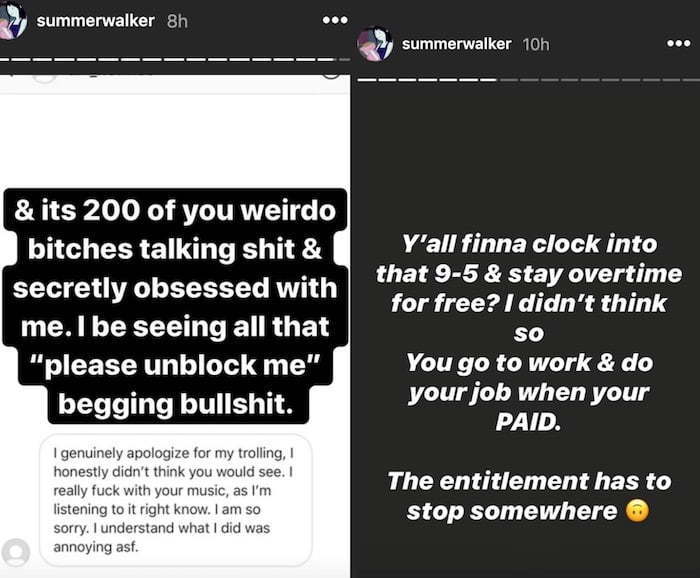 But the debate didn't end there. Summer posted screenshots of the same promoter explaining to fans in IG comments that it was not a show but only a club appearance. "N*ggas posting fake contracts. Your getting sued," she continued. "I've done 10 walk throughs this year and did exactly that. Walked through no issues." Towards the end of her rant, Summer said she couldn't wait until the year was over so she can go back to minding her business. It has surely been a hectic couple of months for the rising new artist.