Bhad Bhabie is on the defensive again over more accusations of cultural appropriation.
Raised in Boynton Beach, Florida, the "These Heaux" rapper is a white girl, whose real name is Danielle Bregoli Peskowitz. So, when she recently flaunted long braids with beads in them, the cultural appropriation accusations came flying. Bhad Bhabie, who gained fame as the "Cash me outside" girl from Dr. Phil, was having none of the negative comments and launched a social media attack of her own — directed at black women.
"To all the black females that are saying my hair [ain't] meant for box Braids guess the f**k what y'all hair [ain't] meant to be straight but y'all glue whole wigs on to your heads and sew brazilian/Indian/ Peruvian hair which [isn't anything] like your natural hair texture at all and I don't say a god damn thing neither do the other cultures that you get the hair from," the 16-year-old rapper clapped back.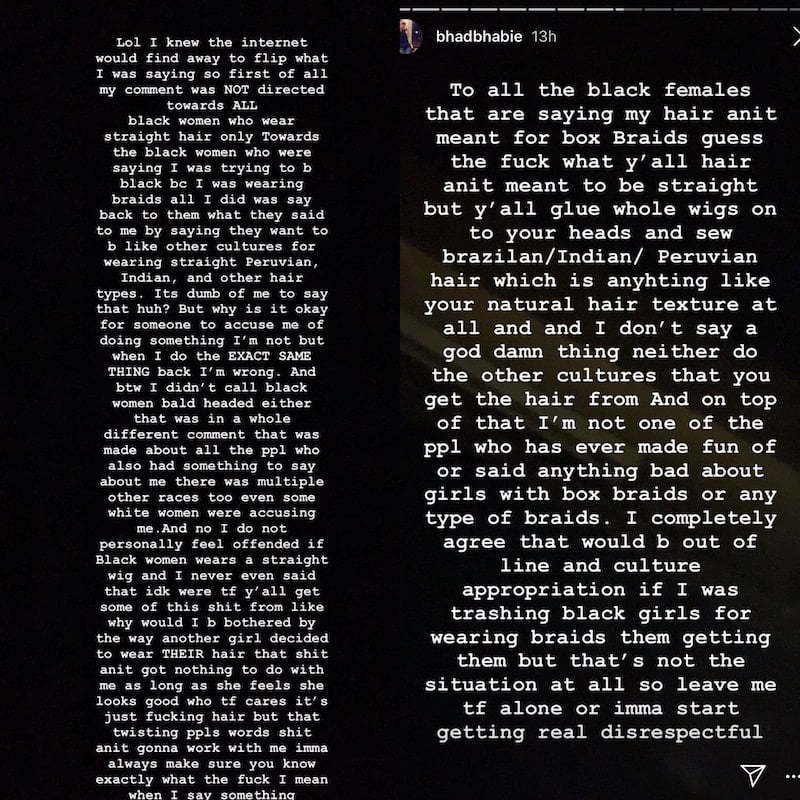 Obviously not learning to quit when ahead, the teenager, unfortunately, did not stop there, continuing to run her mouth. Claiming that her actions would only be considered cultural appropriation if she was dissing braids, Bhad Bhabie said, "I hope y'all bald headed hoes stay up all night thinking bout this."
Perhaps realizing that she had gone too far (or getting a call from her mother), the social media influencer then tried to defend and clarify her crazy comments.
"First of all my comment was NOT directed towards ALL black women who wear straight hair only Towards the black women who were saying I was trying to b black bc I was wearing braids," she said. "And btw I didn't call black women bald headed either that was in a whole different comment that was made about all the ppl who also had something to say about me."
Even if she isn't culturally appropriating her hair, she's definitely bastardizing the English language.