Spice premiered her highly anticipated new talk show last week, where she discussed some hot topics, including "Bun Fi Bun" and gender biases in relationships.
Grace Latoya Hamilton, popularly known as Spice and the Queen of Dancehall, has always been the center of controversy in the Jamaican dancehall circuit. She continues to come up with innovative and impressive ways to keep the public wanting more of her sauce. What has been one of the most impressive things about her, is her ability to juggle the hectic lifestyle of a dancehall superstar and a single mother of two beautiful and intelligent kids, Nicholas and Nicholatoy.
The "Tables Turn" Artiste, who recently inked a new deal with Magnum Tonic Wine, has created a new platform to connect with her fans. In a partnership with her sponsors Mangum Tonic Wine and Novelty Party Rentals, she gave birth to her new talk show "Spice It Up." The weekly show will look at different topics that are of great interest to the community. The first episode touched on some hot topics like "Bun Fi Bun," which is inspired by her new single "Tables Turn," which displays different and often controversial situations faced in modern relationships. Her first guests include disc jockey Richie Feelings, Loud Fashion's Managing Director, Doneisha Johnson, and famed Jamaican Cricketer Marlon Samuels, aka The Icon.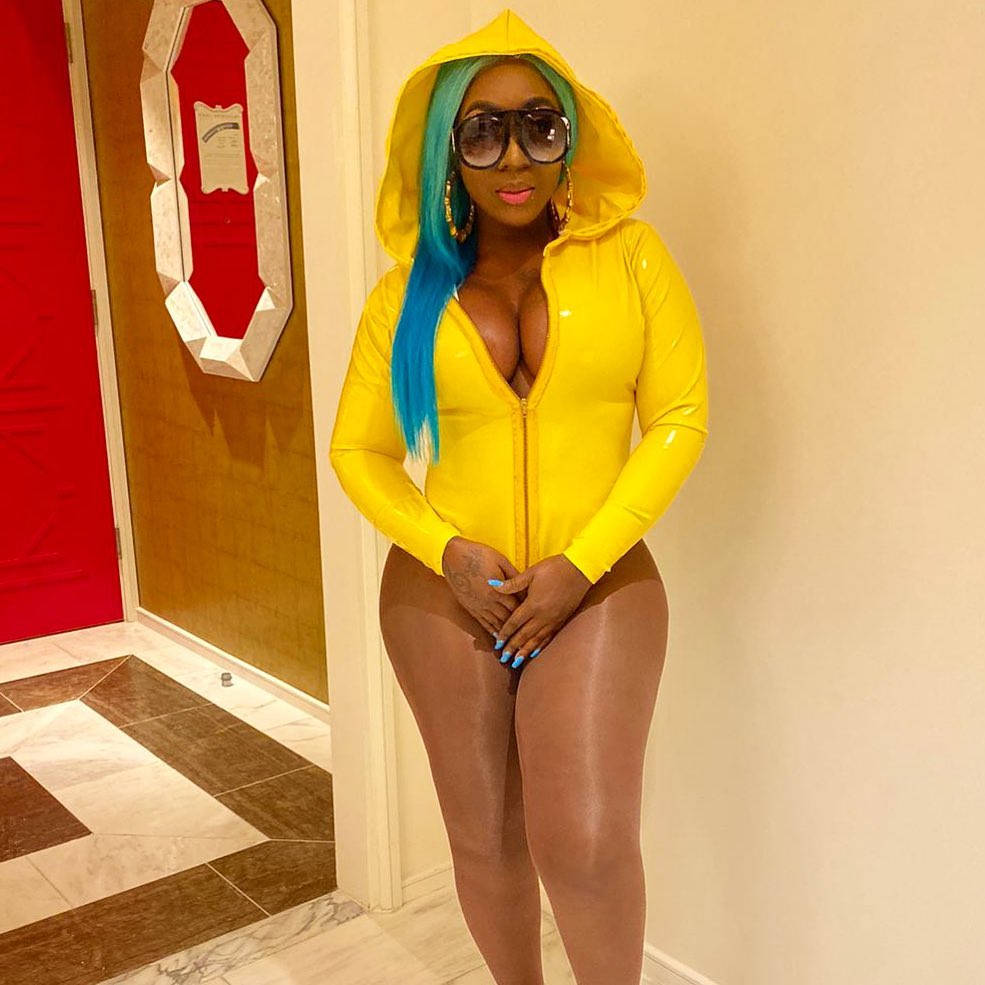 Spice wasted no time getting into the meat of the matter when she promptly asked Doneisha, "Do you believe in bun fi bun." Of course, we're not talking about a burger bun or the traditional Jamaican Easter treat; this is what we call in Jamaica, cheating. It's always a burning question in our society if you receive it do you believe you should return the favor? For Marlon, it doesn't even matter to him because he has three women who are "Doras" that are exploring, and because of that, he would never know if he is even getting bun. Spice's toes twinkled a bit when Marlon bluntly shared his opinion on the burning topic. She added that his lifestyle with his submissive Doras is indirectly damaging her relationship or rather potential relationships.
The discussion got more interesting when the Queen of Dancehall asked the next question, "Would you do a threesome with your partner?" Spice's video "Tables Turn" does showcase a scene where she climbs into bed with her man and another man. Of course, Marlon has had this experience with his friend and has no problem with it. He argues that a threesome should be fun and doesn't need any excessive deep thought behind it, which is in contrast with Spice's second guest Doneisha, who believes, that happens with a threesome. Spice, however, also believes that 80% of threesomes in a relationship end up doing more harm than good for the relationship. For a lot of folks who indulge in it, threesomes are fun and entertaining, and that is what Marlon Samuels argued on the show.
"Spice It Up" kicked off with a real eye-opener into these everyday issues that relationships are facing. The best part of the show is the candid and raw opinions shared by her guests, which is what people want to hear and can relate to. Questions like, "As a man, do you perform chores?" "Should your cheating partner be given a second chance?" "Would you financially support your unemployed partner with no timeline to stop" Doneisha and Marlon, with the help of Richie Feelings, did the genders an excellent service with their unfiltered approach to these touchy questions. We can agree it was very tasteful.
We're all looking forward to the next episode of Spice's weekly talk show. You can catch the episodes on her YouTube channel and Magnum TV.