Prayers up for Angie Martinez, who was seriously injured in a car crash.
Though I'm not usually one to entertain superstitious ideas, it's hard to ignore the influx of motor vehicle collisions that have been plaguing the entertainment industry lately. From the Caribbean to the United States, these inexplicable freak accidents have victimized artists, actors, radio hosts, and more. One of the most recent survivors is popular New York radio personality, Angie Martinez.
The "Voice of NY" and host of "The Angie Martinez Show" is recovering from a serious car accident from which she suffered a shattered vertebrae and fractured lumbar. Addressing the disastrous collision that threatened her life on Instagram this morning, Martinez tweeted this note: "I've always believed in angels and mine was with me the other morning. I was in a severe car accident and sustained a fractured lumbar and shattered vertebrae," she wrote. Like any of us who would have dealt with the scare of possibly losing our lives, Martinez seemed utterly grateful for just the breath still passing through her lungs. "I'm recovering and will be for some time, but I am extremely grateful to have the opportunity to do that," she added.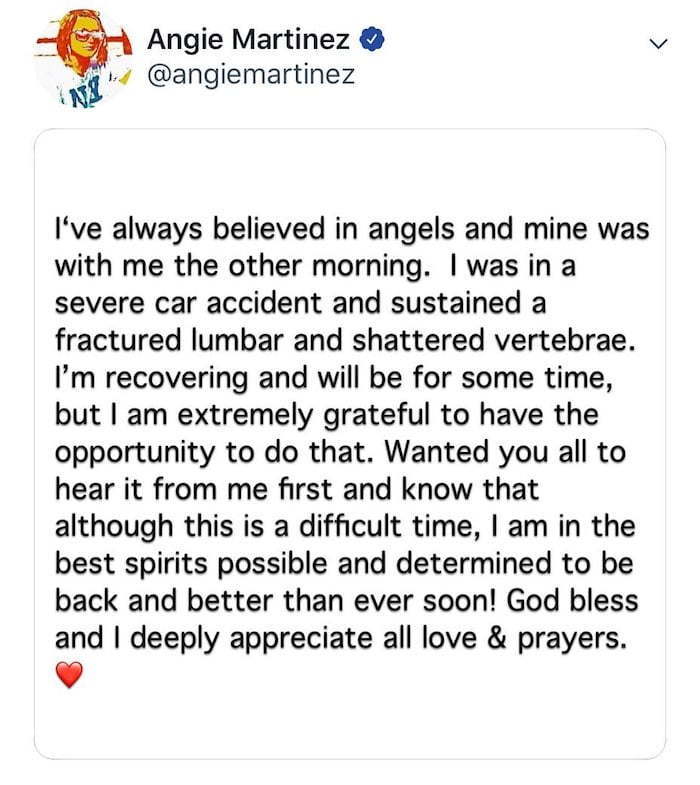 Despite the unfavorable circumstances, the radio personality is staying strong throughout her long recovery. "Wanted you all to hear it from me first and know that although this is a difficult time, I am in the best spirits possible and determined to be back and better than ever soon!" she continued. "God bless and I deeply appreciate all love & prayers."
Angie Martinez has been a part of the hip-hop radio industry for decades, and of course, many of her famous colleagues have sent their well-wishes and supportive messages. Friends like well-respected host Sway Calloway and the Breakfast Club's Charlamagne Tha God, Angela Yee, and DJ Envy have all reached out. Get well soon, Angie.