21 Savage might've just exposed dancehall star Shenseea in a leaked audio with Meek Mill.
Shenseea is slowly making her way up the chain on the international music scene but a lot of fans thought she might have taken a dishonorable shortcut when rappers 21 Savage and Meek Mill spoke of her in a derogatory way. Meek and Savage were playing Call of Duty when some questionable remarks were made about the dancehall singjay. Though the audio that has now gone viral is not 100% clear, 21 Savage is heard asking Meek, "You know that Jamaican h*e Meek, Shenseea?" to which the rapper responded, "You know 30,000 people listening to this, 21, right?" Oops, that warning makes it even more suspicious. "Oh hell nah, you lying," 21 Savage said before Meek and his buddies start cracking up.
A lot of media houses caught wind of the juicy convo and started sharing the little details they know. Zip103fm though not usually an outlet for gossip could not help but share the news to Instagram captioning the viral clip, "So according to the popular blog site @gossipofthecity_, @21savage accidentally spilled tea on himself while playing Call Of Duty. Savage claims he's messing with #Shenseea!" Inevitably, the ShenYeng gang rallied to the "Blessed" singer's defense calling out 21 Savage for his disrespectful phrasing.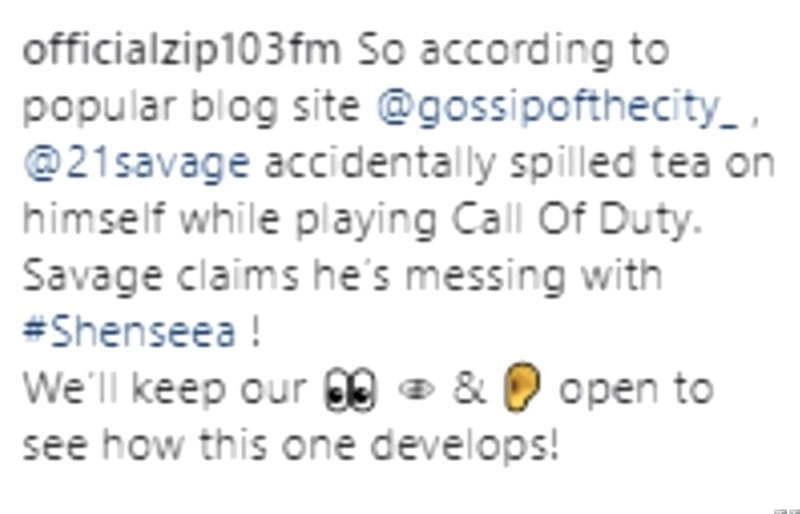 The rapper addressed the issue on Instagram writing, "Dam I can't tell meek who music I f**k with? Im a fan!!!" the rapper wrote "And I have to stop using the word h*e as a terminology for women cuz it Isnt acceptable!…apologies to her I hope she will work with me now after y'all done made this look like some other sh*t."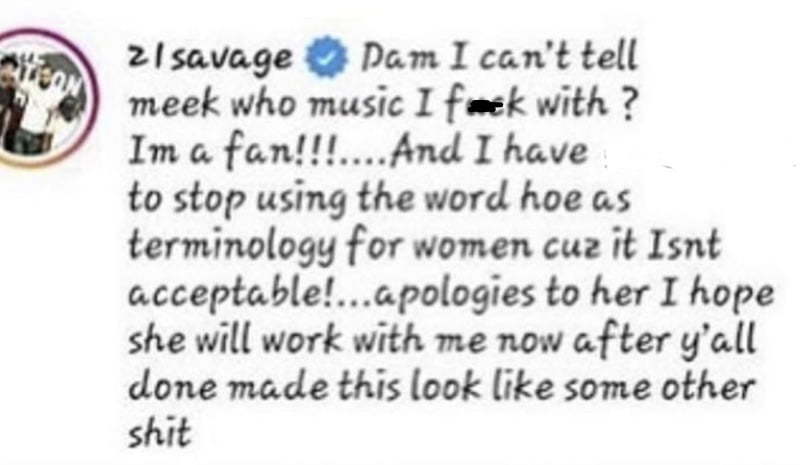 While his cover-up story is a fair attempt, many still aren't convinced that 21 was merely pointing out who he f**ks with musically but rather, just who he f**ks with. But hey, this is only a rumor and he has denied it so what else can we do but keep our eyes and ears peeled to see how this develops. Check out the audio making the rounds online that got Shenseea wrapped up in this latest drama.