Summer Walker is not here to be bullied.
Breakout R&B star Summer Walker is hot off the success of her debut album Over It that has her name buzzing in the media and the airwaves since it's released earlier this month. On the flip side, the "Playing Games" singer has also faced some criticism from fans for her presence and personality. Summer has admitted to having social anxiety that comes off in interviews and during performances, and her laid back energy has seemed to cause a divide from fans who expect an outgoing persona. These debates have put a microscope on her every move, and the internet is ready to pounce on every flaw. So when Summer Walker made a comment about her hygiene, social media held nothing back on attacking her.
On Sunday, the songstress posted a photo to her Instagram story of self-care products with the caption "My washing bowl lol I get to wash in my bowl I hate showers." That's all it took for the internet to run wild with the narrative that Summer Walker doesn't take showers, sparking memes and debates throughout the night.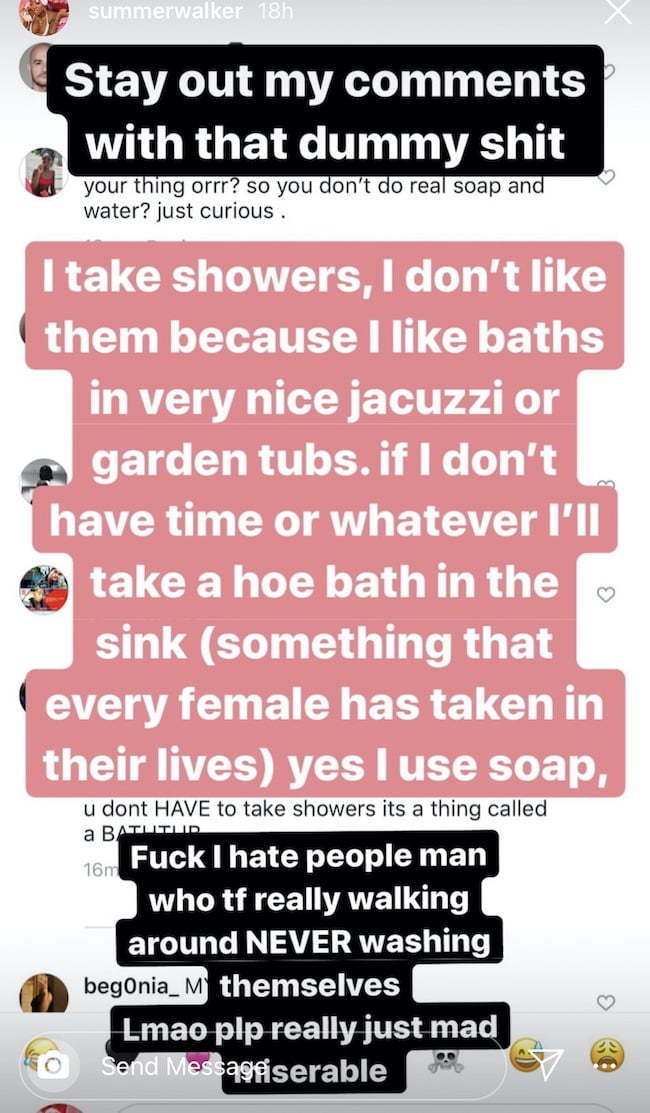 Summer, of course, saw her name trending and decided to speak out on the situation Monday afternoon. "Stay out my comments with that dummy sh*t," she said on her Instagram story. "I take showers, I don't like them because I like baths in very nice jacuzzi or garden tubs. If I don't have time or whatever I'll take a hoe bath in the sink (something that every female has taken in their lives) yes I use soap. F*ck I hate people man who tf really be walking around NEVER washing themselves Lmao plp just really mad miserable."
It's rare to see a celebrity have to explain their personal washing routine, but in 2019, nothing is off the table. Maybe now, after the singer defended herself, fans and trolls will be a little less likely to attack her every move.
Summer Walker says she hates taking showers. She uses a bucket as a 'washing bowl' to clean. pic.twitter.com/lYvwOOsNiD

— East Coast Renaissance (@EastRenaissance) October 27, 2019
How London on the Track walking around the studio when Summer Walker recording… pic.twitter.com/tGlKxim4eX

— Narlton Banks (@opulencen) October 28, 2019
every time a new r&b girl gets popular everyone tears them down. sza, summer walker & it's already starting for ari lennox. y'all really hate successful black women

— ??????? (@braylendion) October 28, 2019