Was Spice trying to pull off another epic publicity stunt but it backfired?
Queen of Dancehall Spice is one of the most highly talked about and controversial artistes in the industry. Some times it seems she can do no right. She is constantly being criticized, but throughout it all, she has a bevy of loyal fans rocking with her. Her fans who know her well know that she has a mouth that cannot be tamed, and she is very down to earth. One of the things her fans love the most about her is her creativity and her drive to deliver show-stopping performances on stage and in her music videos, which always follow pretty interesting themes and concepts.
Recently an alleged video of Spice in bed with two men began to circulate on social media, going viral in the process. Both men can be seen caressing the woman and asking if she had ever done a threesome before. The video sparked widespread interest among fans, some of who strongly believed the woman in the video was Spice. Not long after, Spice herself reposted the video on her Instagram page with the caption, "Stop sending around videos cause my fans know 'This ain't me.'"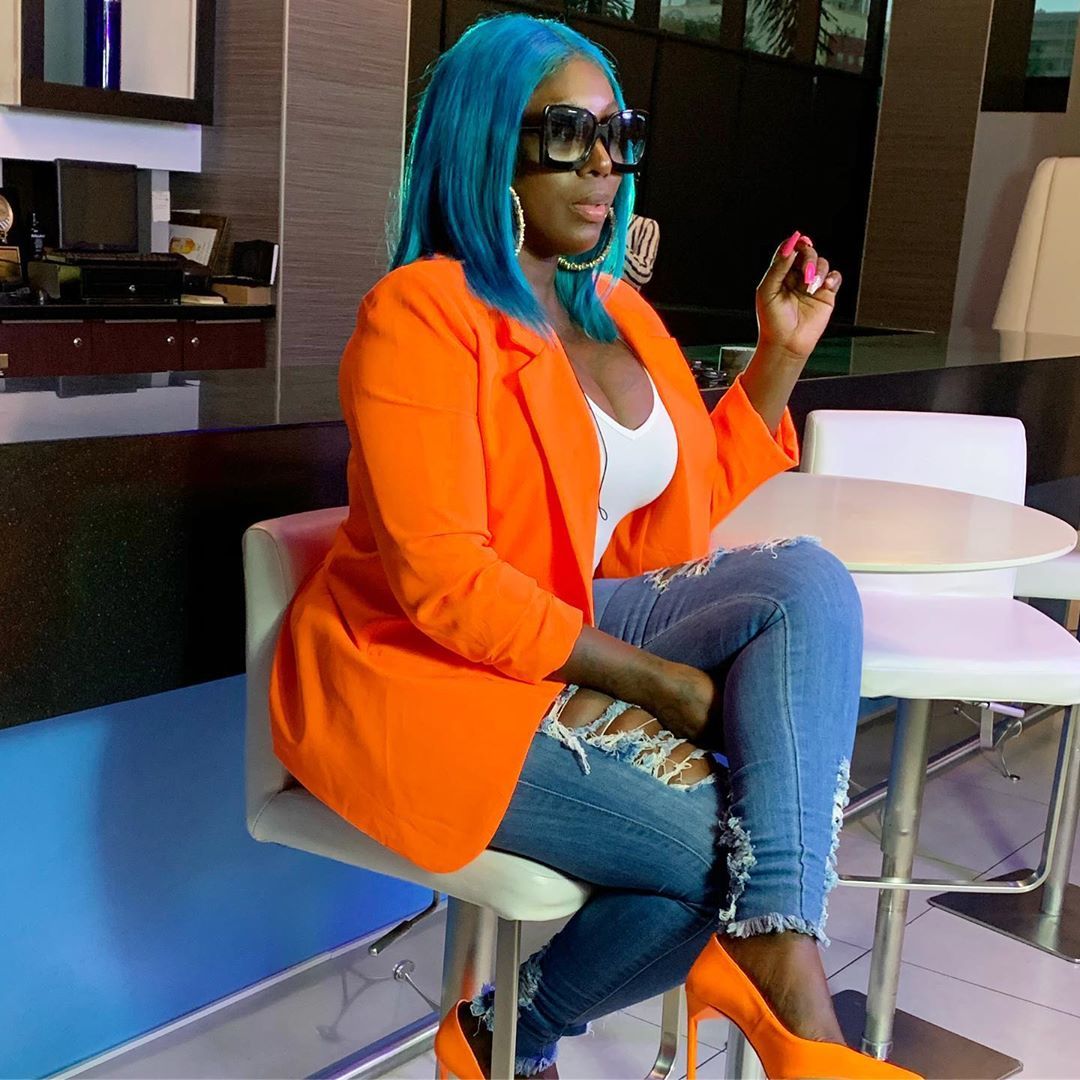 Many fans hopped on the defensive commenting various reasons why the woman in the video was clearly not Spice. Some fans took the opportunity to have fun with the situation making jokes at her expense, which she happily joined in on. Others though, seemed to see right through Spice and littered the comment section stating that it was a clip from an upcoming music video starring Spice. But then things took a turn when Spice posted an image from the same video and captioned the post, "My X dancer Pretty Pretty I know its You and your friends have this picture a send round and think you smart. Remember a unu alone know my password. Rebel inna hospital and Tc know bout it and nah talk so make mi post it fi my self cause clearly this don't even look like me #Tryagain #TrustnoOne."
She was obviously committing to the idea that the woman in the video was not her. But then Spice threw her dancers under the bus claiming that they were the ones circulating the video. One of her dancer's TC responded to the allegation, "Weh mi fi stay from know bout dis aye lady nuh call mi name an nuh tell nuh lie pan mi!!!! yuh always quick fi wah throw tings pan people yuh realize I stay out the mix don't call mi name in a yuh baga baga."
While Pretty Pretty had this to say, "First ting first mek me clear the air cause me would a neva tek out picture out a yuh phone and post no where cause me nav dat precious time and me afi comment yasso cause yuh delete we out a di group and block we but kl." Spice and her dancers began to argue back and forth in the comments and fans began attacking the dancers calling them fake friends and dishonest. Things started to get out of control but still some fans remained vigilant that the entire dilemma was nothing more than a publicity stunt. The publicity stunt aspect seemed the most likely answer after she posted an image asking, "What if your man ask you for a 3some with you and your friend?" This was in line with the video that was circulating except the situation was flipped.
However, in a twist, all the hate the dancers were receiving apparently rubbed Spice the wrong way, which prompted her to address the issue on her Instagram. The dancehall diva confess that it was in fact her in the video and it was for an upcoming music video. She stated that she was merely joking with her fans, and her real fans got the joke. She said, "When I post a picture that is obviously me and caption it as it ain't me, it's clear that I am joking around with my fans. Some artist not even reply to unu caption so leave me alone let me have as much fun as I want with my "FANS" stop taking my stuff literally if you hate me so much and talk about 'it's obvious that it's me and I'm too lie and I love gimmicks' YES THE INTERNET WAS NOT MADE TO BE MISERABLE AND SAD EVERY DAY."
Spice added, "My fans get it, they will see the pic that it's me and comment that it's obviously someone else, this is our joke not yours if you don't get it, and stop comparing me, cause I am who I am and I'm not trying to be someone else #TABLESTURN drop tomorrow and it's NOT ABOUT MY P*M P*M SO LET ME SEE WHAT YOU GONNA HAVE TO SAY Gsssssh." Her publicity stunt had clearly backfired on her.
Do you think Spice took things too far? Although the stunt backfired on her, it did serve its purpose, and her video is likely to go on to trend on YouTube when it is released tomorrow.