Lori Harvey may have linked back up with her ex-boo Future on Sunday before wrecking her Mercedes-Benz G-Wagon.
Hours before Steve Harvey's stepdaughter Lori Harvey was arrested for fleeing the scene of a car accident, fans were speculating about less serious matters surrounding her ever-evolving dating life. Lori has been on-again-off-again with Diddy after she dated his son Justin Combs, but now she might have gotten another old thing back. Lori also dated rapper Future last December, and after the two posted photos from similar locations, fans began to speculate that the two may have rekindled their fling.
On Sunday, Lori posted to her Instagram story a photo of her expensive handbag perched on what looks like a fenced-in deck in front of the beach. Her location was tagged in Malibu. Future also posted ocean beachside views to his story with the caption "Peace of Mind." Their followers quickly put two and two together, and the rumor mill immediately began to twirl.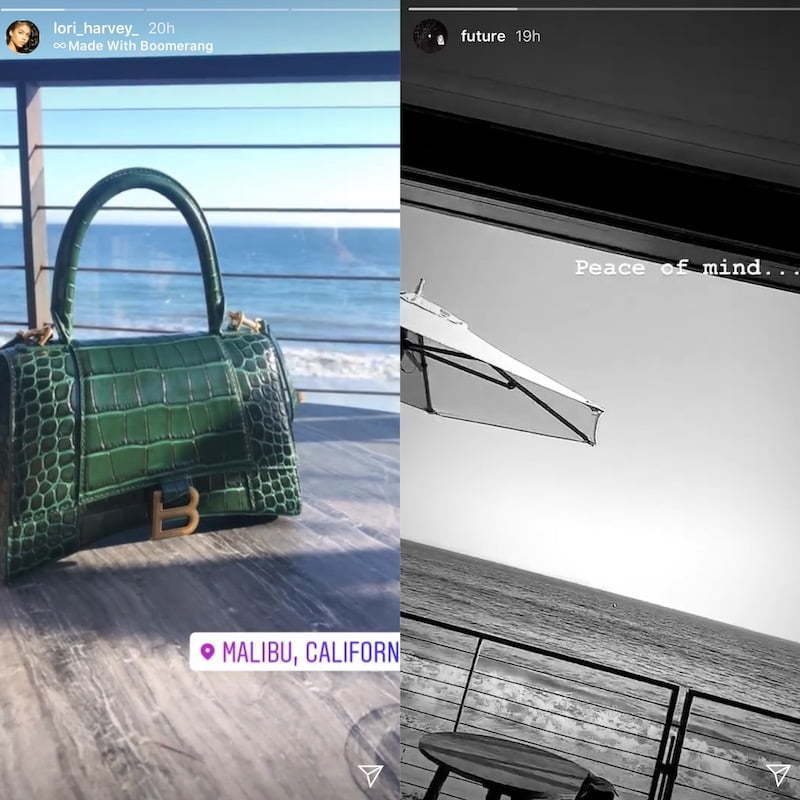 It was confirmed that the two were definitely at the same Malibu restaurant, but it wasn't confirmed that they were there together intentionally. Lori's story later showed she was accompanied by her friend, Amaya Colon, but that's not to say she and Future didn't at least spot each other. Although the Dirty Sprite rapper is in the middle of a court battle with his alleged sixth baby mom, his record with relationships is just as sporadic as Lori's at this point. So it is no wonder that fans were quick to assume the two were back at it.
After the photos in question were posted, Lori Harvey was involved in a serious car accident when she crashed her G-Wagon into another car in Beverly Hills because she was allegedly texting while driving, according to TMZ. Her vehicle flipped over, and the 22-year-old fled the scene and was later arrested and charged with misdemeanor hit and run and delaying a police investigation.
Lori Harvey x Future ? pic.twitter.com/5NG7mvusYS

— Tamantha ?? (@Tamantha_5) October 21, 2019
Yooooo Lori Harvey is on vacation with Future!!!! The two top hoes have linked this is wildddddd

— ??????? ???? (@TheCandyyShop) October 21, 2019
Bro if future get Lori pregnant this is gonna be INSANEEEEEEE!!!!!

— ??????? ???? (@TheCandyyShop) October 21, 2019
Lori Harvey was just in her future rollout now she thinks she's gonna beat this vehicular incident like Bruce Jenner- nah fam nger wake up call pic.twitter.com/KAAL4splnF

— Random Ness (@milhousethagod) October 21, 2019