Chris Brown has been spending a lot of quality time with his little girl Royalty lately. The doting father usually takes as much time as he can to bond with his 5-year-old daughter, especially when he doesn't have to work.
Chris Brown is constantly busy with making new music, music videos, his Black Pyramid clothing line, and of course, traveling state to state for performances following his Indigo album. The singer finally had some days off from touring, and he's been showing off his daughter's dancing and basketball skills on social media while they've been bonding.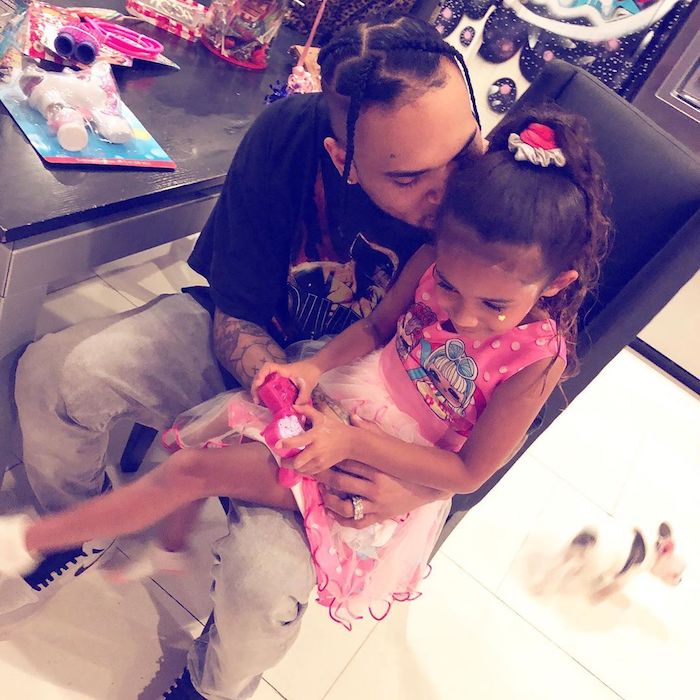 In a video posted to Instagram, Chris is seen at home with Royalty shooting hoops on their Indoor Basketball Arcade Game. The cute video was liked over a million times and re-shared on multiple other accounts as well, with many completely in awe of the singer comfortably playing his role as a present dad. The 'Heat' singer encouraged Royalty as she took shots at the hoop while standing on the equipment, and he stood behind her, making shots of his own.
Chris Brown has always been his daughter's biggest cheerleader. He constantly dotes on her and shares small clips and cute pictures of the beauty online as well. A few days ago, he posted a video of her dancing to his decade-old hit single "Wall to Wall," which he still performs to this day. At the looks of it, Royalty must accompany her dad to rehearsal quite a lot as her dancing skills is almost a mirror image of her celebrity dad.
Chris also recently shared a photo of Royalty on Instagram, captioning the adorable photo, "God gave me an angel." Royalty's dad is gearing up to continue his tour that resumes on Tuesday, October 15, in Oakland, California. He should be available for some more daddy-daughter bonding time again the following day before getting back to work on the IndiGOAT tour for the rest of the week.