Drake is not too happy with his father Dennis Graham right now, and it's pretty evident why.
Up until yesterday, Drake and his dad Dennis Graham seemed to have a decent relationship despite difficulties the two had while Drake was growing up — at least that's how he tells it. But Dennis has given a different version of the story and recently claimed that he was very much a part of Drake's upbringing, a stark contrast to the lyrics the Canadian rapper has shared time and time again in his music.
"And my father living in Memphis now, he can't come this way / Over some minor charges and child support that just wasn't paid / Damn, boo-hoo, sad story, black American dad story" Remember that from "Look What You've Done"?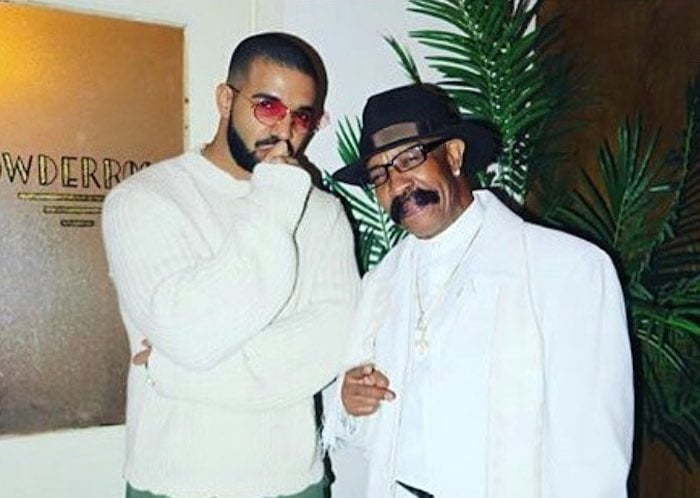 Or how about these words from "You & The 6":
"That ni**a Memphis for real, girl he love you to death / He made mistakes throughout his life that he still doesn't accept / But he just want our forgiveness, and f**k it look how we living /I'm content with this story, who are we not to forgive him?"
Interestingly Drake mentioned that Dennis didn't accept his mistakes, and it seems as though that may still be the case. Dennis said in several interviews including one with It's TheReal podcast as well as Nick Cannon on 106FM that he confronted Drake about songs like the ones above and asked why he made him out to be an absent father and claimed he spoke to his only son "if not every day then every other day." The Memphis alleged that when he asked Aubrey about it, his response was, "Dad, it sells records."
That story didn't sit well with Drake and even prompted the "Controlla" rapper to publicly respond, saying that his dad was seeking attention and stood by the truth behind his lyrics. Sources close to Drake's camp exclusively told Urban Islands that the OVO exec became very upset by the entire situation and didn't appreciate Dennis putting their personal business on blast.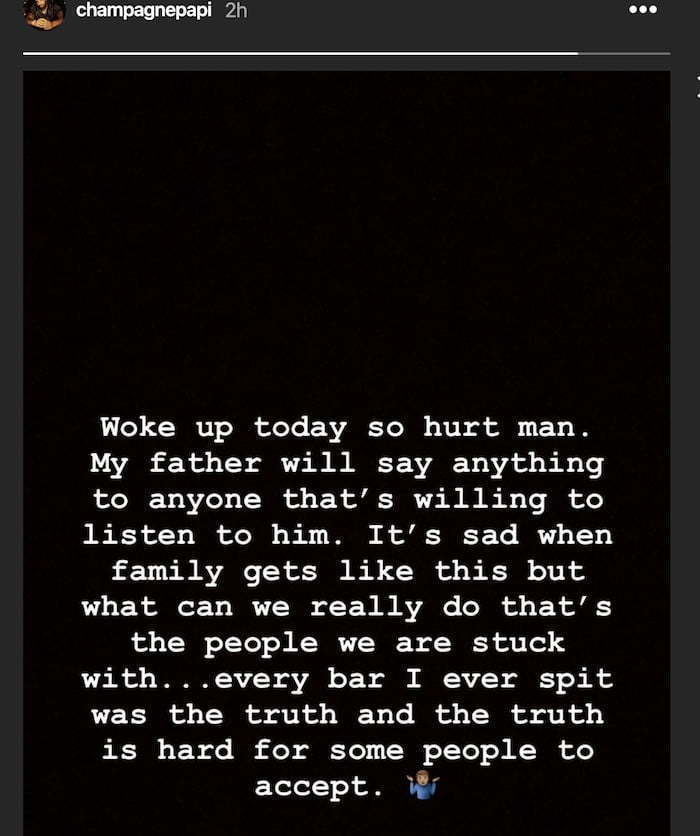 "He got pretty heated in the studio, mashup the entire flow," our source said. "He [Drake] feel some way about it like he is making up stuff to rap about to sell records and drive up his stream count? Man I could put my life on the line Drake rap about real sh*t, not some fake sh*t you hear them other lil rappers rapping about. I seen that man pen game, it's second to none. I understand how he [Drake] feels with ya paps trying to water down your raps to make himself feel better as a father. And how is this different from Meek came out with that ghostwriter sh*t?"
Our sources told us that Drake feels like his dad is going out of his way to undermine his lyrics, which cut against the narrative of the 6 God being one of the 'dopest' lyricists of this generation of hip hop artistes. The Meek Mill ghostwriting situation also brought out a similar anger in Drake and we can all remember that those accusations forever affected their relationship and gave rise to one of the greatest diss records of all-time, "Back To Back."
Since the story broke, several fans and celebrities alike have reacted on social media and other platforms, arguing that this story of an absent parent having a different perspective from their child is not uncommon. It may be likely that Dennis felt he was a good father and a large part of Drake's childhood, while at the same time, Drake felt like he could have been around a lot more and maybe missed crucial moments. Only those two and Drake's mother, Sandy, know the truth. Only time will tell how this family beef will continue to play out.