Cardi B does not play when it comes to her child.
Cardi B was never known to hold her tongue and has a reputation of publicly responding to anyone that has something negative to say about her, whether it be a trolling Twitter fan or a reputable publication. The latter of the two brought out a side of Cardi that may have been the angriest and intense we have ever seen her, and it all came down to her 1-year-old daughter Kulture.
The "Please Me" rapper went on a wild Instagram live rant Thursday night calling out Access Hollywood for allegedly editing an interview she did with them and making it seem like Cardi is a bad mother. Cardi was there to promote her new Netflix competition show with T.I. and Chance the rapper, when they asked how she balances her career with being a parent. After posting the headline, "Cardi B admits Kulture calls someone else 'Mommy' because she works so much,' the Bronx native quickly set the record straight.
"Don't cut sh*t off to try to make me look like a f**k a** mom because that's something that I'm not!" the MC screamed to her 59,000 Instagram live viewers. Cardi claims she explained that she tries to spend as much time with Kulture as possible, and told Access that she would have to be in a situation where Kulture had too many babysitters and didn't recognize her as a mom. She said the publication edited out crucial parts of her two-minute-long answer that would have added context. "Don't use my mother f**king kid for clickbait!" she said.
Access Hollywood eventually removed the interview in question from their site.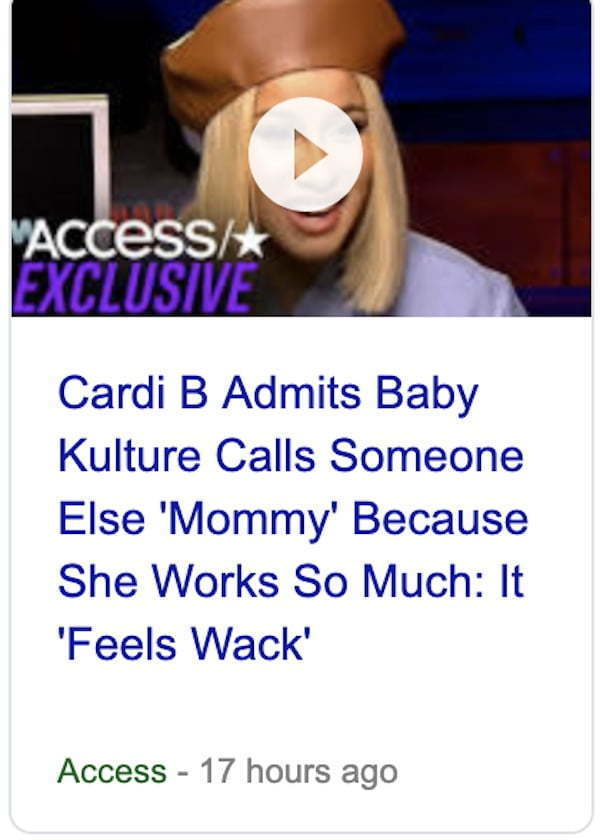 In the midst of her rant about how she chooses to spend time with Kulture over working often, she responded to Joe Budden and his podcast cohosts who had a discussion this week about Cardi B straying away from making real hip-hop music. One of the four hosts, Mal, had suggested that Cardi wasn't prepared for the quick success that she got and may have never had a plan as an artist of where she wanted to take her music career. Joe Budden argued that she was busy focused on other business endeavors to care about putting out real rap music like her original hit "Bodak Yellow."
"These b*tch a** n***as Joe Budden and the podcast talking about 'Cardi's doing other things. She's not busy worrying about hip-hop.' Yes n***a I'm am doing other money moves. And guess what else I'm doing n***a? I got to spend time with my child!" the 26-year-old replied. "So I'm sorry I'm not doing what y'all n***as expect me to do cause I got to do other sh*t and spend time with my kid!!!"
She also swore to never do press again after threatening to spit on the Access Hollywood reporter who she interviewed with. On Friday, she responded to the backlash she received for her rant and continued to defend her strong stance against the media. "You see I been workin my ass off doing my sh*t. I go out I do press run people took my kindness for weakness I felt violated I said how I felt now I am THE INDUSTRY WICKED WITCH AGAIN This is why I don't be talking or socializing cause it always ends up bad for Cardi." She late said she plans on deleting her social media after her birthday, which is coming up on Oct. 11.
You see I been workin my ass off doing my shit .I go out I do press run people took my kindness for weakness I felt violated I said how I felt now I am THE INDUSTRY WICKED WITCH AGAIN ??This is why I don't be talking or socializing cause it always end up bad for Cardi !

— iamcardib (@iamcardib) October 4, 2019
After my bday ..I'm deleting my social media accounts for a while cause a bitch just OVER IT .

— iamcardib (@iamcardib) October 4, 2019
You can watch her full rant below: