Tekashi 6ix9ine kidnapping trial will likely come to a conclusion mid next week.
The Tekashi 6ix9ine trial in which he offered up his cooperation finally wrapped up in federal court. 69 will soon learn his fate after the 10-day trial came to an end Thursday with closing arguments from prosecutors as well as the defense team for two Nine Tr3y Gangsta Blood members accused of kidnapping the rapper.
The lawyers representing Anthony "Harv" Ellison and Aljermiah "Nuke" Mack told jurors Thursday that they believed Daniel "Tekashi 6ix9ine" Hernandez faked the 2018 carjacking and robbery to promote his song with Nicki Minaj, "FEFE", that dropped soon after, and gain clout on the internet, according to Inner City Press. But federal prosecutors argued that if it came out that 6ix9ine lied on the stand during those three days of testimony, he would be facing a minimum of 47 years in prison.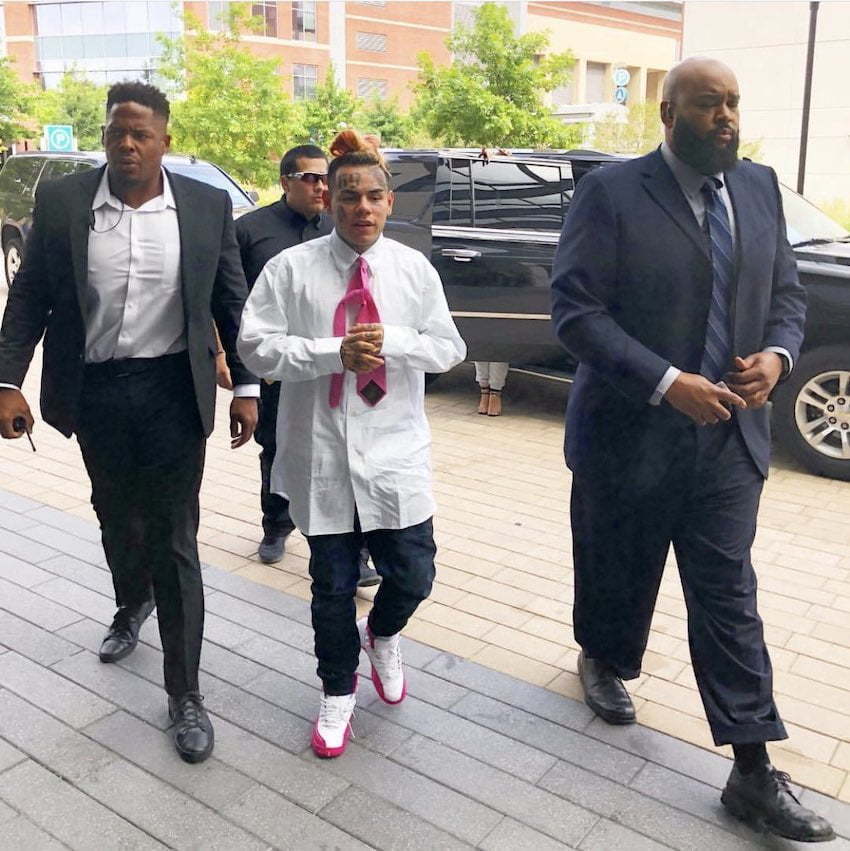 Each side reviewed all evidence presented during the trial, including photos and video of Tekashi and other members of Nine Trey like his ex-manager Kifano "Shotti" Jordan who pled guilty in the RICO case and was sentenced to 15 years in prison. The feds did their best to convince the jury that the robbery was not staged and added that Tekashi's driver, Jorge Rivera, was also robbed that night of his cell phone. The incident was caught on a hidden camera in Rivera's truck that was placed there once he agreed to become a federal informant against 6ix9ine last year. In the midst of the closing argument, Inner City Press confirmed that a recorded conversation between two Nine Trey members plotting to "violate" Tekashi was indeed the voices of rapper Jim Jones and gangster Mel Murder.
Now AUSA Warren turns to "robbery and kidnapping of Daniel Hernandez," Tekashi #6ix9ine. He says it was NOT staged.

— Inner City Press (@innercitypress) September 26, 2019
AUSA Warren asks jury if they think #6ix9ine's career would be helped by being seen beaten up and chain stolen. Shows photo of his swollen face.

— Inner City Press (@innercitypress) September 26, 2019
AUSA Warren tells jury, Remember that the driver Jorge Rivera was also robbed. He had a gun pointed at his head and they took his cell phone.

— Inner City Press (@innercitypress) September 26, 2019
OK, they've said it again. Assistant US Attorney Warren just said, "Jim Jones was the one on the call with Mel Murda about violating Daniel Hernandez." #RetiredRapper

— Inner City Press (@innercitypress) September 26, 2019
But the defense team continued to highlight loopholes in the prosecutors' argument and said there was no way to prove that their clients were involved in crimes based on the testimony of other criminals who can't be trusted. The judge ordered the jury to return next Wednesday for deliberations, and a verdict could be handed down that same day. Only after a verdict is revealed will the court sentence Tekashi, who was hoping to be home by 2020.
Reports said the rapper will reject the offer of entering a witness protection program and hopes to pick up his life where he left off.
Now Fasulo, after citing as everyone else has the Mister Met selfie with #6ix9ine, says "we've talked about trolling, how Mr Hernandez admitted he likes to get under people's skin, posting videos, getting attention"

— Inner City Press (@innercitypress) September 26, 2019
Fasulo tells jury it is entirely up to the government whether to give out the 5K1 "golden letter," says it's a big incentive to perform for the government, even to lie.

— Inner City Press (@innercitypress) September 26, 2019
OK – Ellison's defense lawyer Deveraux Cannick has started up by telling the jury to closely review #6ix9ine's testimony, says he was prepared for hours and hours by the government and still there are holes in his story. Thread continues

— Inner City Press (@innercitypress) September 26, 2019
Cannick: #6ix9ine tried to downplay that he had just dropped a song with Nicki Manaj, that he wanted his jewelry robbed to get publicity, to make money

— Inner City Press (@innercitypress) September 26, 2019
Until Wednesday. And on that day Judge Engelmayer will read the jury his "charge" in the morning then they will begin deliberation. Could decide on verdict on Mack and Ellison later that day, or take longer https://t.co/IK9PLxezAj

— Inner City Press (@innercitypress) September 27, 2019