Popular furniture store IKEA has faced massive online backlash over its jerk chicken with 'rice and peas' dish after an image of the meal went viral on social media. So much so, that they have issued an apology.
Swedish furniture company IKEA is known for its ready-to-assemble furniture, kitchen appliances, and home accessories. It is currently the world's largest furniture retailer and has been since 2008. However, what they are not known for are their Caribbean dishes. IKEA made a devastating error when it decided to sell jerk chicken with rice and peas at its local cafe. They completely misinterpreted what authentic rice and peas is made of.
Their recipe included a half a chicken plastered in jerk seasoning that looked extremely burnt. The rice and peas was also a big no go. It was not even close to what an original rice and peas dish consists of. The furniture giant sold the jerk chicken with actual white rice and garden peas. Rice and peas is typically cooked with kidney beans, coconut milk, garlic, onion, and thyme. Although some recipes can vary, such as substituting gungo beans, garden peas have never been factored into the mix. Persons who visited the cafe were shocked and insulted when presented with the dish. Many took to Twitter and Instagram to share their displeasure and one photo, in particular, went viral.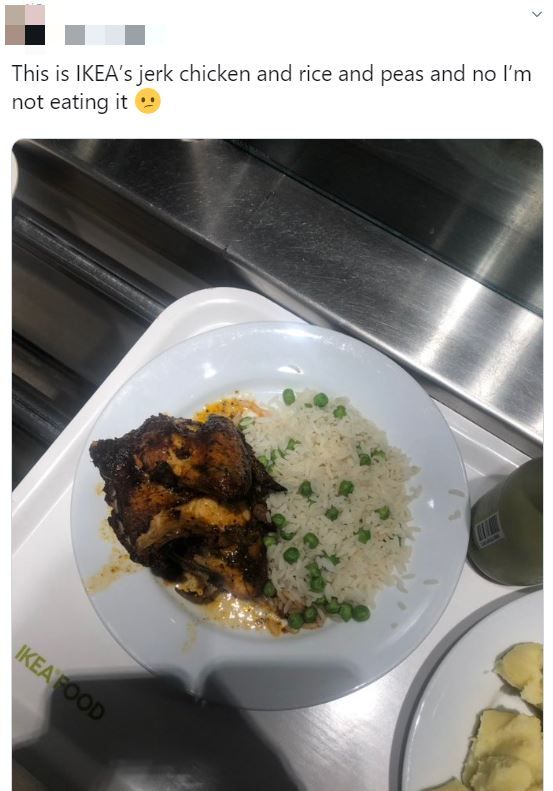 One customer posted a photo of her meal with the caption, "This is IKEA's jerk chicken and rice and peas and no I'm not eating it." To which one person commented, "Why is IKEA selling food did I miss sum?" Another added, "The chicken don't look bad. But the literal rice and peas is killing my soul."
Many are now also accusing the company of cultural appropriation and exploitative marketing. One person stated, "Cultural appropriation gone wrong. Thanks IKEA we'll take if from here." While another added, "The CAUCASITY of it all." With another stating, "What a complete mess. These companies just like triggering black people for publicity. They know exactly what they're doing."
The furniture giant then went on to apologize for the error issuing a statement to Fox News, "We're aware that our new jerk chicken, served with rice and peas has created some conversation and in some cases offense. Our intention was to create a dish for many people to enjoy but we appreciate that we may have gotten it wrong."
It seems IKEA did not consult anyone Caribbean in the process of making their dish. Maybe they should stick to making furniture.
#Ikea dont owe anyone any apology. I stand with Ikea. They said Jerk chicken and rice and peas NOT rice and beans which we Jamaicans call peas. How many Jamaican chefs try other culture food and add twist to it? This look way better than some Jamaican food I've seen. pic.twitter.com/AYaN6Eo7DB

— NOEL CUNNINGHAM Jr. ?? (@iamchefnoel) September 15, 2019
This is IKEA's jerk chicken and rice and peas and no I'm not eating it ? pic.twitter.com/BFPJ1CWBmR

— . (@Themlotsdad) September 9, 2019
Jerk chicken with white rice and green peas?
Can people stop bastardising traditional dishes please? pic.twitter.com/pqWgEsQMZZ

— Lorraine King (@lorrainemking) September 12, 2019
Wait I missed that ikea is selling "jerk chicken" with rice and GREEN peas? ? pic.twitter.com/xbuP8zqKTo

— Natelegé (@natelege_) September 19, 2019