50 Cent is roasting Jim Jones on IG after Tekashi69 testified that he is a retired rapper.
It's the third day of trial and Daniel Hernandez was once again on the stand. It seems a majority of internet trolls have created a new name for the young Brooklyn rapper. Tekashi 6ix9ine has since been converted to Tekashi Snitch9ine. 6ix9ine told the court that rapper Jim Jones is a member of the Nine Trey Bloods gang, dragging him into the ongoing saga that is ensuing between him and other Nine Trey affiliates who are on trial.
The following question was posed to 6ix9ine, "Who is Jim Jones?" He replied, saying, "He's a retired rapper." He goes on even further to confirm that Jim is also a member of the Nine Trey Bloods gang.
It is known that 50 Cent is one of the biggest social media bullies out there and he could not help but comment on what Tekashi called Jim Jones. 50 Cent shared a screenshot of the post from Inner City Press and outlined the answer the young rapper gave when asked about Jones. He proceeded to troll the "We Fly High" rapper, captioning his post, "[Laughing emoji] he said Jimmy a retired rapper yo. LOL."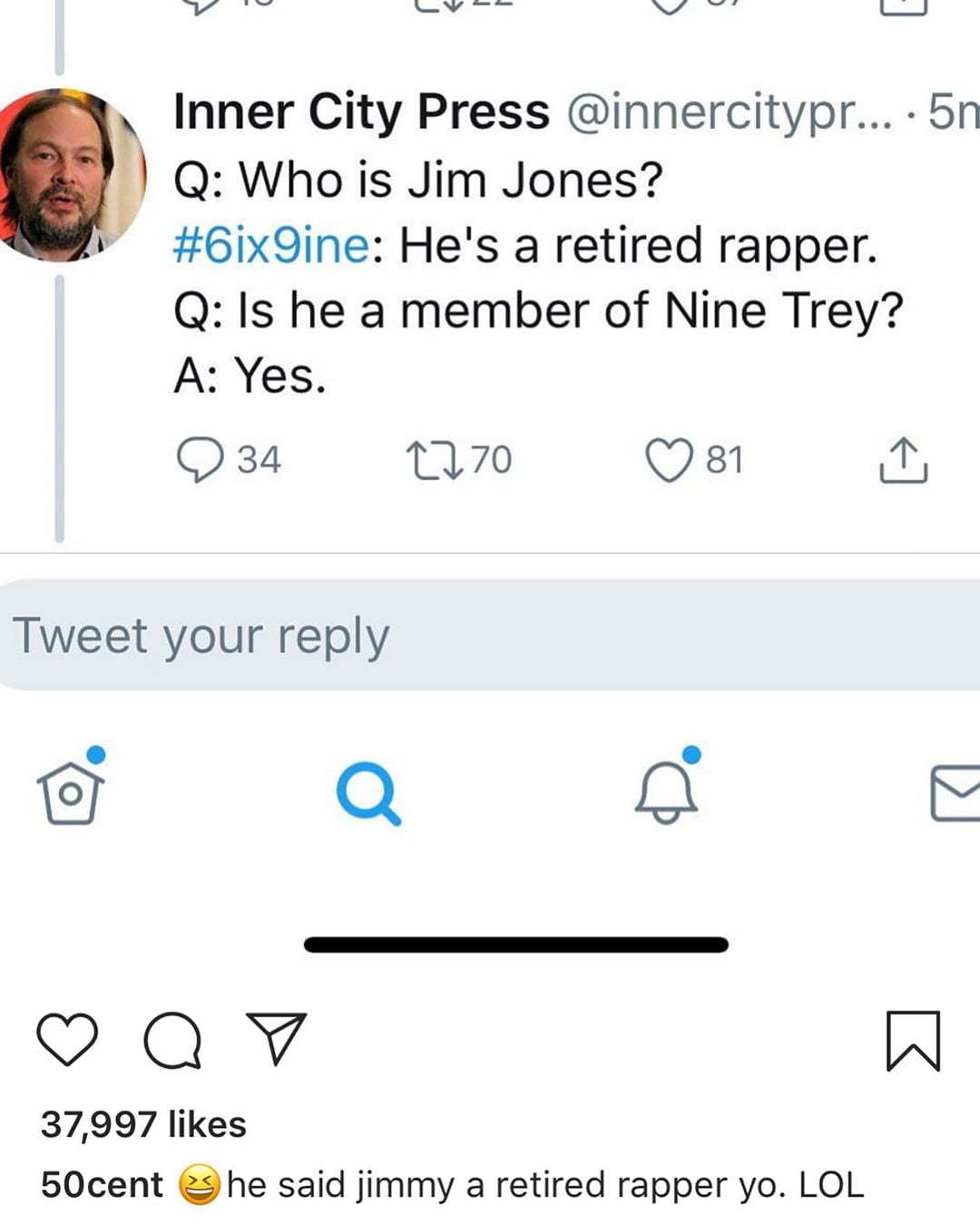 He posted another tweet, "Jimmy finna do the race, they got his name all in that sh*t. #lecheminduroi #bransoncognac"
50 cent has been quite vocal about 6ix9ine before the trial and has not eased up since the start of the trial which happened on of this week Monday.
Always, the prankers and joker, it doesn't seem as if 50 Cent takes a whole lot of things seriously. It could also be that he saw how serious the matter was and just wanted to lighten the mood. Whatever his motive was, it is clear that the phone call and testimony that was given by Tekashi could prove disastrous for Jim.
Jim Jone's started rapping in the late '90s and is actually still putting out music to this day. The rapper released his seventh studio album, "El Capo" earlier this year.
The question on everyone's' mind is, what else will 6ix9ine reveal tomorrow?