Dancehall Diva Spice has stirred up controversy left, right and center with an Instagram post she made on Saturday evening.
"I've been in the dancehall game for almost 20 years and no radio dj selector, producer nor artist/ Entertainer and I have never had sexual intercourse before so let me just say this loud and clear for all the people in the back. My whole image is what you call 'GOODAS.' Bye," Spice posted beneath a slideshow of eight photos of her sitting on a water fountain in Canada, where she performed on the weekend.
Her post sparked a flurry of comments with most persons casting doubt on whether he had been intimate with Vybz Kartel, even during their Rampin Shop days.
"Grace, only GOD alone can 4wd & seh the King Of Dancehall nuh bone u," one fan wrote while another added, "So Kartel never spin yuh like satellite dish inna real life?"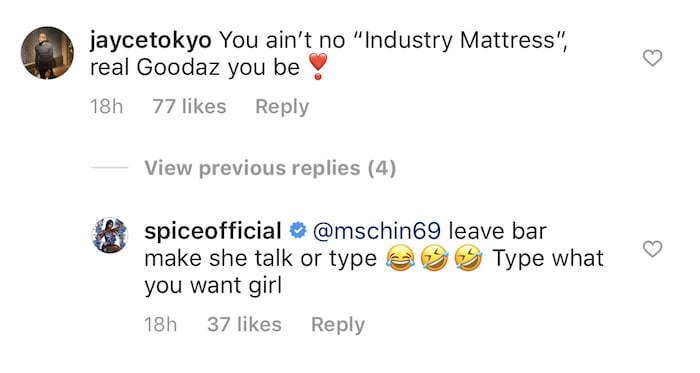 "Yow spice a mi female artist enuh but spice mi think kartel did get a likkle piece hahaaha," miss_outstanding said.
But it was Jayce Tokyo's comment which caused a huge firestorm, which resurrected two incidents involving radio and television personality, Nikki Z with whom Spice had a dispute late last year.
"You ain't no "Industry Mattress", real Goodaz you be… them need fi tak several pages out ah Spice book tho, wah them know bout!," Jayce Tokyo said in an apparent jab at Nikki Z.
"Leave har make she talk or type, type what you want girl," Spice commented after @mschin69 told Jayce Tokyo that he was "too mix up".
The "Industry Mattress" comments used by Jayce Tokyo were directed at Nikki Z last week by singer Etana, with whom she had a disagreement and Spice's response seems to be a tacit jab at the radio personality.
Spice and Nikki Z, a United States Army veteran, were also involved in a dispute late last year, in which the artiste told the radio host, that she was a 'fake' and declared that she was going to degrade her for one full week and that "you a gwaan like a me make the god from the gully (Mavado) f**k yu and no want you."
One follower seemed not too impressed by Spice's post.
"Why she cyaa post her man or post anything other than him initial?? But get up a throw word… Private life different from cyaa post life. Big international "award" wining artiste and affi a settle fi ppl man and cyaa utter him name publicly," she declared.
Her comments were counteracted by kehldee who sided with the Love and Hip Hop Atlanta star.
"How that concern u??? Gwaan worry bout who she a f**k while she still busy a count her millions. The things that bother y'all bout ppl life smh star or not, a her life she do as she pleases. Grow the f**k up nd watch ur life," she rebuked.