DJ Khaled gifted Offset some new Jordans, and the price tag will blow your mind.
Offset shared a video on Instagram of his fresh pairs of Jordans that he says are gifts from DJ Khaled. The blue custom made Air Jordan sneakers boasted a "We The Best" tag and black lettering on the back of the shoes. Offset tagged Khaled in his IG story where he wrote, "Shoutout to big bro," as he held one of the shoes in his hand while showing off its features. He went on to say, "Silent. Real one. One hunnid. We the best – ya dig?" He then showcased another pair that he said means even more to him.
"This right here, this gonna mean a lot to me Khaled. I appreciate you my dawg. You kept your word, and I want y'all to know. He a real one. Yeah, these shoes cost $15,000 a piece. Do the Math," Offset said.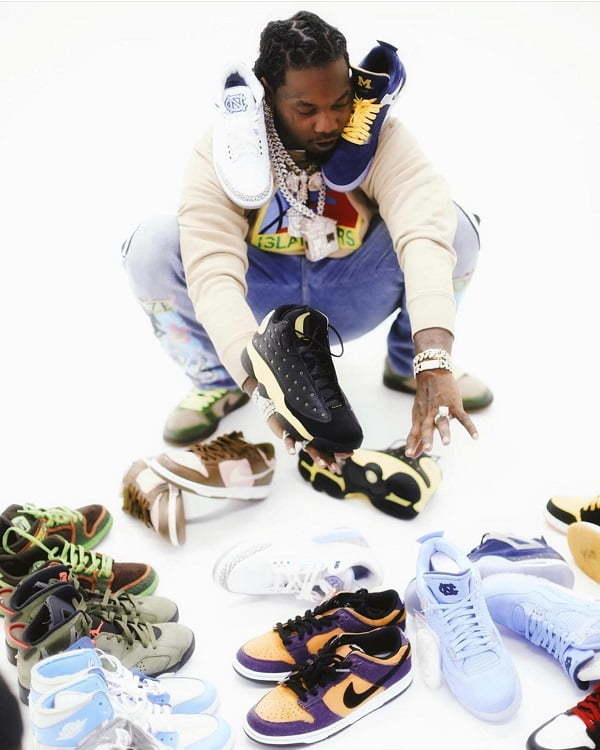 DJ Khaled is known for giving extravagant gifts to his friends. He recently gifted Stormi Webster – Kylie Jenner and Travis Scott's 1-year-old daughter – a mini Chanel bag for her first birthday. Don't ask us why a 1-year-old needs a designer bag.
Offset is also known for his prized shoe collection. The rapper recently went sneaker shopping with Complex, and this man knows his shoes. He gave a little history on where he grew up and how imperative it was to wear the right J's and "know your numbers." Offset explained, "The culture of me growing up you had to wear J's. You couldn't play. Like if you couldn't get them, don't get them. You get something else if you can't." He further explained that knock-offs were hugely frowned upon.
According to Offset, his current shoe collection is worth a million dollars. He purchased a total of 27 shoes with Complex which brought his bill to $31,333.12. This means that Offset got more than two dozen new pairs of shoes for around the same price that DJ Khaled got him the two custom pairs of Jordans. We all need friends like Khaled.