21 Savage declared the death of "Hot Girl Summer," as he officially welcomes "F**kboy Fall."
One of the biggest trends to come out of Summer 2019, is Hot Girl Summer. Rapper Megan Thee Stallion invented the term "Hot Girl Summer," and the rest is history. The phrase took off like wildfire taking on a life of its own. Whether you were out and about living your best life or driving the boat with your girls, this phrase was used. It was also used to signify personal growth, and it encouraged women to improve themselves. By truly celebrating a hot girl lifestyle, you did what you wanted, when you wanted, and you gave zero f**ks. Megan also released a song titled "Hot Girl Summer" which featured Nicki Minaj and Ty Dolla $ign. The song peaked at number 11 on the Hot 100 charts, and it won the VMA for Best Power Anthem.
Now it seems that 21 Savage is trying to start his own trend, "F**kboy Fall." The word "F**kboy" has been around for years in hip hop culture. Typically it means; A boy who is into strictly sexual relationships; he will lead a girl on and let her down. He doesn't respect women but relies on them heavily. He's distant, doesn't care about other people's time, and won't commit. He's self-absorbed, does stupid things, and f**ks with others' emotions. Boys like this will pretend to genuinely care about the girl but always fail to prove the supposed affection.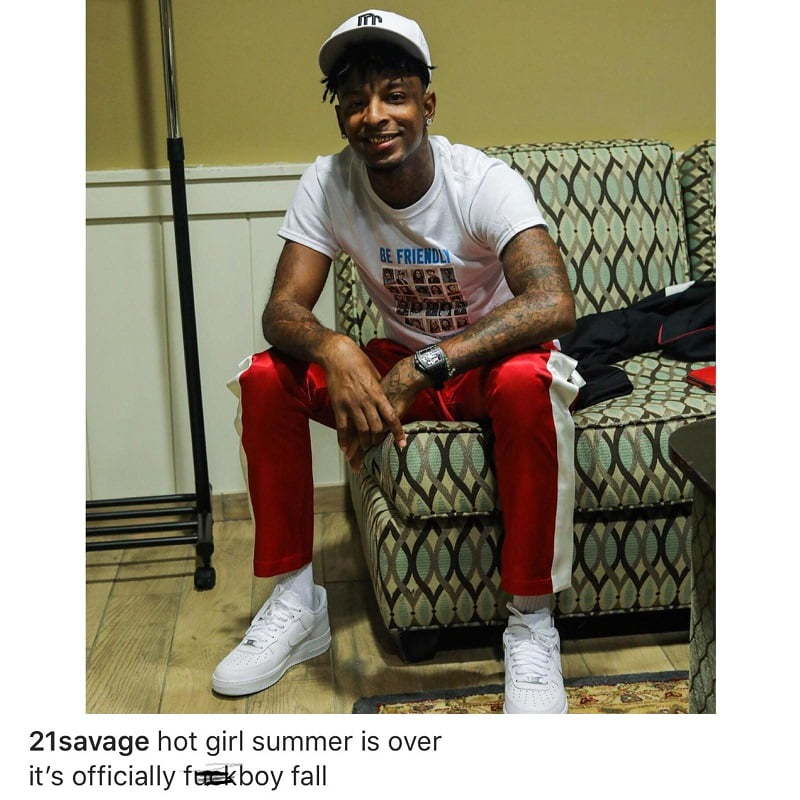 Posting a new photo of himself to Instagram, the "Bank Account" rapper smiles cunningly and lets his fans know what he's about to get into this fall. "Hot girl summer is over it's officially f**kboy fall," wrote Savage.
So basically 21 Savage is declaring that it's time for men to fool around and break a lot of hearts. There's a strong possibility that like Meg, 21 will drop a song called "F**kboy Fall." The Atlanta rapper recently confirmed that he's currently back in the studio working on Savage Mode 2.
The post has gotten a lot of love from fellow rappers and fans, so it seems the f**kboys are ready to take over the fall.