Rainbow-haired rapper, Tekashi 6ix9ine, threatens to derail his own case as the judge deems his music to be too misogynistic.
Manhattan federal court judge Paul Engelmeyer gave prosecutors the approval to play certain portions from the music videos "Billy," "GUMMO" and "KOODA" however they will be screened for their content showcasing rank misogyny. The NY Daily News reported that the presiding judge overseeing the trial, of the two accused Nine Trey gangsters is no fan of Tekashi 6ix9ine?s music.
Judge Paul Engelmayer stated, "I will exclude the portions… that contain irrelevant misogyny," He cited that those lyrics could compromise the "Fefe" rapper's testimony as a government witness. That would, in turn, taint the jurors' perception of him. 69 pleaded guilty in January to 9 counts of gun, racketeering, and drug charges and is now cooperating with federal prosecutors in the hopes of scoring a lenient sentence.
The government had planned to show the jury the rowdy music videos in their entirety in order to strengthen their case against Nine Trey Gangsta Bloods memebers, Anthony Ellison and Aljermiah Mack.
To which the judge stated, "I cannot imagine that under close review, the government would ask the court to admit these 19 misogynistic lines," referring to lyrics from "BILLY. He went on to further critique the songs claiming that "GUMMO" had lyrics which were, "explicitly sexual in nature," and said "KOODA" contained "misogynistic segments that could be unfairly prejudicial, as well as repeated threats to kill the rival rapper's mother."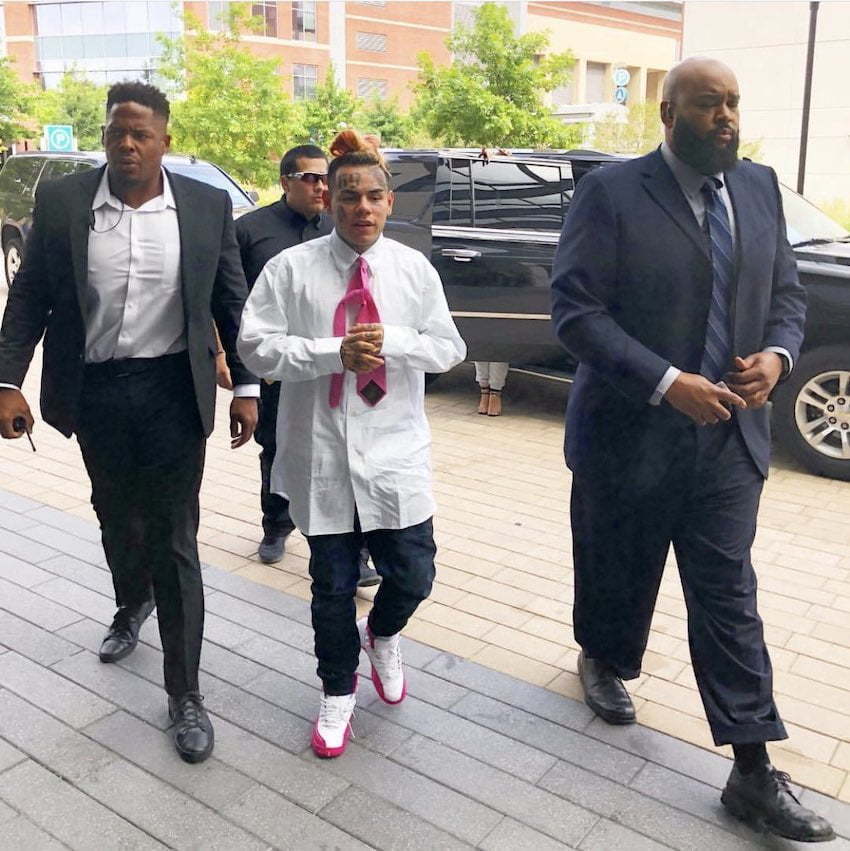 Tekashi 6ix9ine was initially charged alongside Mack and Ellison, but he secured a plea deal which will see him testifying in court against the two men. Ellison is accused of kidnapping 69, a crime he denied. He was also slapped with racketeering and gun charges. Mack is charged with narcotics trafficking and racketeering.
Tekashi, whose real name is Daniel Hernandez, is expected to testify against the two men during their upcoming trial. This means the judge has to question potential jurors to find out if they have prior knowledge of the Brooklyn born rapper. "Rap musician?" he asked the lawyers as he tried to figure out how to identify Tekashi69. To which Ellison's attorney, Deveraux Cannick responded, "Rap artist" The judge then showcased his true feelings of the rapper's music by asking, "That raises the age-old issue of 'what is art?'"
Ellison's attorney, Deveraux Cannick, made his intentions clear by stating that he will go after the rapper discrediting him by showcasing his foolish online behavior as a trash-talking internet-troll who falsified and manufactured key episodes in the case. Judge Engelmayer also ruled that Tekashi 6ix9ine could not be questioned in detail about his 2015 conviction for a sex crime involving a 13-year-old girl and other men. Tekashi could be seen grabbing the girl, fondling her breasts and buttocks. Videos of the act were then uploaded to social media.
His latest trial is scheduled to begin Sept. 16. If convicted, the men he is testifying against face up to life behind bars. It is very ironic that his own music puts all that he snitched for in jeopardy.