Just a few short years ago, a brand-new track from Missy Elliott was a scarce commodity. Then her Superbowl performance happened in 2015, her surprise feature on Ariana Grande's album last year and now the year of her career. The timeless female rapper has long been lauded on social media and in Hollywood despite her musical hiatus. Was her comeback one of the best we've ever seen? Let's review the facts.
Missy' Misdemeanor' Elliott was born Melissa Arnette Elliott on July 1, 1971, in Portsmouth, Virginia. She exploded onto the scene in the 90s, first with an all-female R&B group and eventually to collaborate with renowned producer, Timbaland in "Swing Mob." Missy Elliott has several collaborations with a childhood friend, Timbaland, the late Aaliyah (who she always paid respects to in her work) and more. She followed up with some solo music albums of her own and went on to be known as the best female rapper of her time. Her first album, "Supa Dupa Fly" debuted at number three on the Billboard 200 and was the highest-charting debut project by a female rapper at the time. She went on to break records for most weeks at number-one on the US R&B chart with her top five hits "Hot Boyz" from her second album.
Missy is believed to have Jamaican roots, and the influence is evident in her music as she often breaks out into a dancehall flow after a few verses. She has even collaborated with dancehall artistes like the infamous Vybz Kartel and Love and Hip Hop star, Spice, who are two of the greatest in the genre. Missy once give credit to Jamaican music, saying you can never go wrong with it and hoisted "Ting-a-Ling" by Shabba Ranks as one of the firsts dancehall track that she listened to on repeat.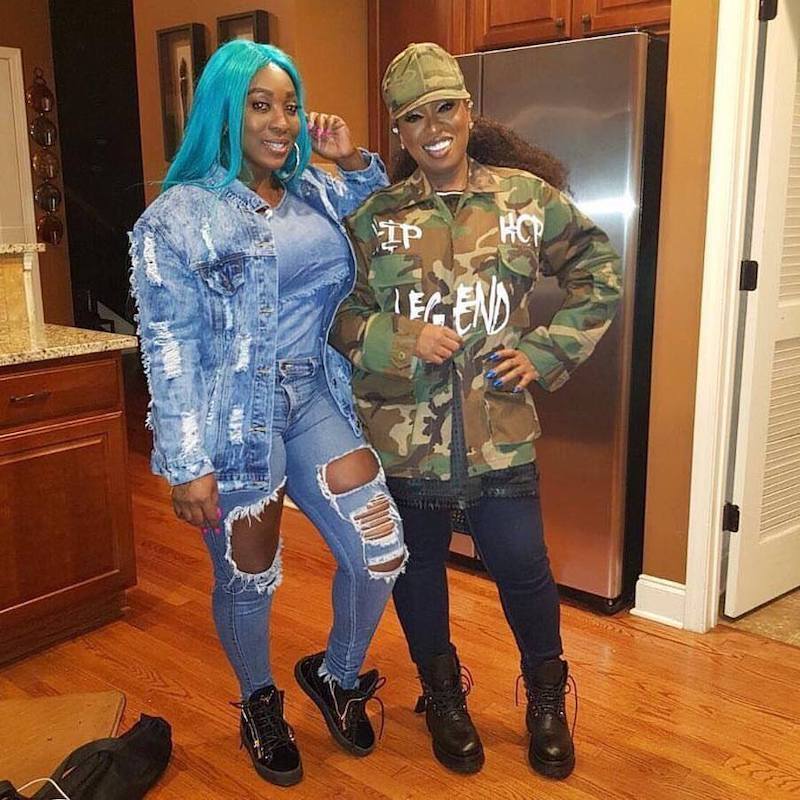 During the early 2000s, Missy was on top of her game, appearing in big movies like Honey starring Jessica Alba and giving us memorable hits like "One Minute Man," "Work It" and "Get Ur Freak On." No one could touch Missy Elliott when it comes to an artistic video back in her day. Her concepts were unimaginable and choreography unparalleled – only to be rivaled by whom she says inspired her, Busta Rhymes, who is also of Jamaican descent. Missy has videos where she would stand in the background while her neck elongated itself towards the camera like a human extension cord. In another video, she would remove her head and hold it in her hand while her lips still mouthed the words of her song, and her headless body danced behind it. Her bizarre creative direction knew no bounds. When she became noticeably absent from the music scene, fans yearned for that expression and surrealism.
In June 2011, Elliott told People magazine that her absence from the music industry was due to a hyperthyroidism disorder known as Graves' disease. She was diagnosed after she nearly crashed a car from having severe leg spasms while driving. Elliott has admitted that she experienced severe symptoms from the condition, and she could not even hold a pen to write songs. She revealed that this went on for a year. The rap icon didn't have writers' block, but she still could not physically write – how ironically traumatizing. Missy recalls a time when singer, Monica even came over to her house and offered to be her scribe in a moment when she was going through this hard time.
Missy has won several Grammy awards, and according to Billboard in 2017, she is the best-selling female rapper in Nielsen Music history. Missy Elliott got inducted into the prestigious Songwriters Hall of Fame this year making her the very first female rapper to do so. Also, just recently, in the year of her epic comeback, Missy Elliott fulfilled our wishes beyond measure when she graced the MTV Video Music Awards' stage with quite the nostalgic performance. Miss Misdemeanor gave us flashbacks we only thought possible in theory or on the web. She entertained the viewers of the event – watching at home and in public – possibly even more than the live audience, especially those who were familiar with her work back in the day. She was also honored with the well-deserved and long overdue Michael Jackson Video Vanguard Award at this year's MTV VMAs for her impact on the music video landscape which she said "means so much" to her and she's "worked diligently for over two decades."
Modesty, as usual, is Missy's forte as she graciously accepted what is rightfully hers. We later learned that she was ill prior to and during her performance, which came as a surprise considering the amazing show she put on. It's very clear that nothing can stop this amazing woman. I find this an ideal time to quote Missy's words from her 2001 mega-hit with Timbaland 'Get Ur Freak On' – mind you even former US First Lady, Mrs. Michelle Obama proved to know the lyrics to this classic song by heart.
"Missy be puttin' it down / I'm the hottest round / I told y' all mutha, y' all can't stop me now / Listen to me now / I'm lasting twenty rounds / So if you want me come and get me now," Missy spits. Where is the lie? Missy has literally lasted for over 20 years.
Recently the influential rapper released a surprise project called "Iconology" which is her first EP since 2005. It features 5 tracks and has already secured a top-five spot on US iTunes. The lead song "Throw It Back" was released with a music video that is an excellent modern depiction of the artiste that we've always known Missy to be throughout her career.
Misdemeanor Elliott is such a likable character. Not only is she talented, but Missy is down to earth and has a heart of gold. The rapper revealed that she still does completely ordinary things like watching the ID network, fly economy instead of first-class and does her own grocery shopping. Missy spoke on her recent success and return to the music scene in an interview with Angie Martinez, where she said, "It feels like 2003."
To this very day, Missy has been battling Greys' disease but has remained the epitome of perseverance and strength. About her musical hiatus, she said, "Fourteen years go by so fast. It's crazy when I hear it, I don't feel like I've been… I always tell people it's not easy for what I've done because I was an artiste and aside from doing everything for myself, I was doing stuff for other artistes; so, my brain just became frazzled, I needed to refresh. It's like a computer," proving that Missy never stopped working even if she wasn't putting out records of her own.
Is it far-fetched to say that Missy Elliott is the greatest female rapper in history? After all, she did open doors for many of the artistes we bump through our car speakers today and made records with acts we still celebrate like Tweet, Ciara, Trina, Ludacris, and more. Missy has secured accolades that other female artistes have yet to attain, but in this age of social media and clout, even despite the facts, some millennial folks might argue that Missy Elliott cannot be what the stats suggest due to her lengthy absence from the music scene. Some teenagers and young adults online even claim not to know who Missy is. Recently, some of them believed that she was a new artiste which the rapper found amusing.
At the end of the day, her comeback has been like no other and should be a huge testament to the vast impact that she's had on the industry. That alone should speak volumes in support of the argument that she is one of the greatest to ever do it. If no one ever 'put you on' to Missy Elliott, I'd strongly suggest a quick keyword search on YouTube. Check out her latest below and watch how her older hits can still stand tall next to other rappers' hits today. It's time to "Throw It Back."