Dovey Magnum responds to Ishawna, and Jada Kingdom picks sides in the war.
Things are heating up. Dovey Magnum posts a pic clapping back at Ishawna who posted a photo defining Dovey's "JuJu P***y" slang, as when a woman has a bad yeast infection. In the photo Dovey posts, there is a photo explaining what she states as the correct meaning of "JuJu P**y" It says, "JuJu means Magic/Luck when combined with the word Pussie it means A Vagina Full of Luck. When a female has a pink inside a clean vagina. Vagina is usually extra moist, gummy & the clit not hanging down" With the example, "yo bro the chick last night had some good juju pussie I came in like 5 mins." She captioned the post, B*tchhhhhhes be Backwards ASF Better the h*e did hol on pon @footahypemusic And continue with a FOOT forward in life #EpepsiGetFlat#FrizzOut #EtongueHengDownLikeStJohnsTIE #bawloutnation #jujupussie # jujunationit's a jujupussie year."
Unfortunately, Ishawna's fans did not come to play with comments such as, "so why you no go pick him up and get a foot in life ms 1 hit wonder. Suh how wen mi go pon urban dictionary mi cant find it." Another fan wrote, "Hello don't come diss ishawna enuh she right and it done my gyol a flow fi years and foota no inna her mix so gawn hold you place and chill. Team bloodclout @mslegendary … ah mi fi tell yuh." It also seems that Dovey did make that definition up on her own. Obviously she will go to any lengths to justify her song.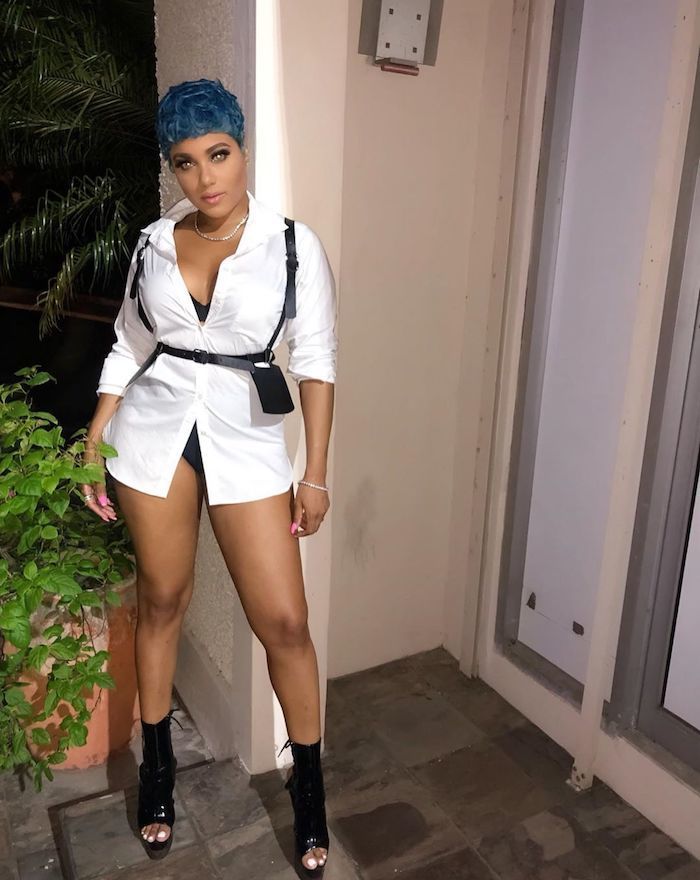 Not long after, Jada Kingdom decided to insert herself into the beef by reposting Ishawna's initial post on her Instagram story. However, she did not get any support for doing that. "Jada she love jump inna war yuh see and then come cry cree when dem claat har, Jada she nuff up inna everything but her stage performance," one fan wrote. "The last video mi see with her her voice sound like it gone a hell with satan kmt. Why she always a run in pan people war so?! Girl run in pan hit song and leave out negative behaviors."
This is not where the war ends though, as Ishawna has fired several other shots since Dovey clapped back. She posted a photo of an almost toothless goblin with the caption, "Before they were "Famous" A wah do hog inna Bathsuit???? #BobGoblin Stink pu**y @doveymagnum a tru di yeast infection a itch mek yuh affi bawlout BI**H." She then added, "The world know my baby father, who breed yuh bi**h?? Hog inna bathsuit yuh PU**Y STINK!!!!! Come defend it bob goblin @ doveymagnum yuh fava bloodcl**t he/she."
Fans everywhere in the dancehall community who are watching the saga unfold are unable to contain their excitement. "Lmao the accuracy tho why Dovey trouble the sleeping lion?? Last gyal Ishawna murda all now the body nuh discova, somebody call the ambulance fi dovey can I get a wow," one Ishawna one said.
It seems Ishawna has won the war as she closed it all off by posting a photo on her Instagram, showcasing that she has been blocked by Dovey. She captioned the post, "Bi**ches be bothered af!!!" Fans are now crowning her the champion and it appears Dovey has retreated. "Dovey in di corner hiding hiding hiding hiding from ishawna / All that big talk and still had to block Ishy. Wow. #Pressedddd. / So Dovey fling shot then run? Hey ishawna ago keep a next funeral like weh she do Di / Coward gyol alone block ppl ina d middle a d hottness."
The dancehall community is now anxiously awaiting a response from Dovey, that is if she ever shows her face again.