Nicki Minaj and Joe Budden went head to head on Queen Radio, and Nicki gave Joe the boot.
Nicki Minaj kicked off another season of Queen Radio, and her first guests were Joe Budden and his co-hosts from the Joe Budden Podcast, Rory and Mal. The season opener on Beats 1 radio was supposed to commemorate the first anniversary since Queen Radio began, and Megan Thee Stallion was rumored to have made an appearance.
But instead of Hot Girl Summer bonding and women empowerment, fans got a different side of Nicki Minaj when she and rapper-turned-outspoken media mogul Joe Budden clashed live on air. Joe has been critical of Nicki in the past, and Onika took the time to call him out on statements he has made publicly in the past.
The first debate was over the organic nature of the "Hot Girl Summer" song. Joe Budden previously said on his podcast that he believed a song between Nicki Minaj and Megan Thee Stallion was already done before the two female MCs did their famous first Instagram Live session. Joe alluded that Meg and Nicki used the live chat as a rollout to get fans hyped for the upcoming song. But Nicki wanted to set the record straight that she hopped on the song after the IG live chat was over.
Nicki went on to further explain that she didn't even know how to add Megan on Live initially and that Megan hinted at wanting her to hop on the record right then and there. When the two got off Instagram, Megan's camp sent Nicki the song, and she wrote and recorded her verse a few hours later.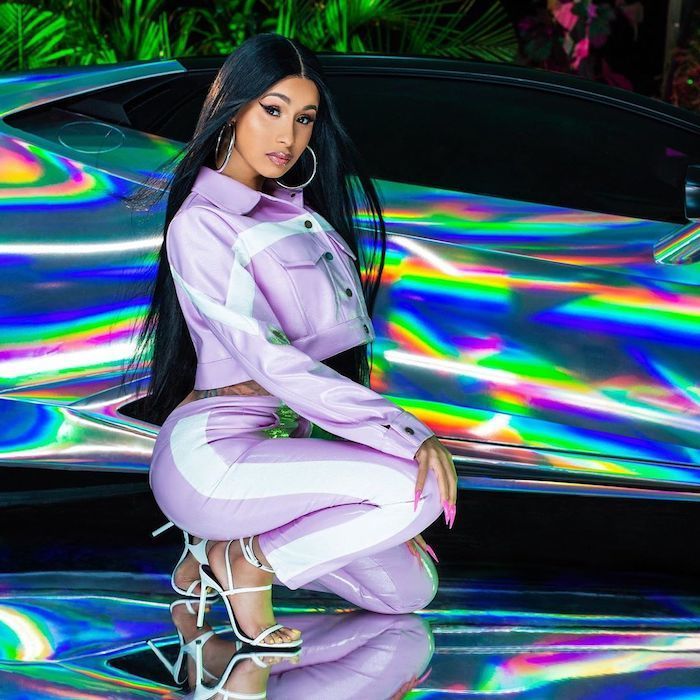 The conversation then shifted to the creation of "Motorsport" with Migos and Cardi B, to which Nicki used as another example of when Joe Budden accused her of lying. Joe said on his former Complex Network show Everyday Struggle that Nicki didn't know Cardi B was on the record and that that may have sparked the beef between the two. But the "Pink Friday" rapper has been vocal about the story behind "Motorsport," claiming Quavo approached her about adding Cardi to the song and Nicki then agreed.
"It might have been you and your sidekick Akademiks. You went on your platform and said 'she didn't know this other b*tch was on the record.' You said that. That is implying that I'm lying when I sat and said exactly how the song came about," Nicki said.
Joe tried several times to interject and explain himself, but Nicki continued speaking over him.
"I see what you like to do. You like to corner people into a point when the point is much broader than that. Not just in this 'Motorsport' instance. But all Joe ever wants to do is use foresight and prophesize and guess," Budden said.
"You used to dealing with stupid people and you not going to outsmart me sweetheart," Nicki snapped back.
After a quick break, Nicki claimed on-air to Joe's co-hosts that she wasn't angry and she just speaks in an aggressive manner. But Joe came back on the defense after the heated exchanges.
"I'm most comfortable in the most uncomfortable predicaments," he said. "Trust me I'm at home. I'm right at home this feels great."
Nicki told the "State of the Culture" host that he wasn't going to disrespect her like she was stupid, to which he replied that his mother taught him better than that.
"Did your mother raise you to accuse people of being on drugs when you never met them a day in your life?" Nicki clapped back, referring to Joe insinuating in past podcast episodes that Nicki Minaj was addicted to pills.
"You like talking about people and not having nobody responding," she continues. "You like tearing down people's character when they cant respond. You like tearing down women when they cant defend themselves. You like tearing down women when you can try and end their career because lowkey you're jealous of their success."
The conversation continued with less and less of Joe Budden's participation. Nicki claimed Joe was upset that he got called out and said she wants him to own up to his mistakes and apologize for spreading false information now that he knew the truth. But Joe stood his ground and said she was not being honest about her history of drug use and said the "Queen" album referenced popping pills several times.
"You talking to a ni**a whose past is littered with it," Joe said. "Who gives a f*ck what she popped? But don't sit here and say you ain't popped a f*ckin pill cuz we sitting here in Apple."
"I never said that!" Nicki yelled back. "I never said that you dumb f*ck! Are you that f*cking dumb you ain't hear what the f*ck I said? Cut his f*cking mic since he wanna be f*cking dumb."
"He so used to thinking he's the smartest person in the room and not allowing people to speak. And then when you find out you was wrong for some sh*t, not saying 'Damn, I was wrong."