Yung Miami is still shaken up after being shot at on Tuesday.
City Girls' Yung Miami told the world she's "not okay" just a day after she was shot at in a drive-by in Miami Tuesday morning. If being shot at isn't scary enough, the 25-year-old rapper is currently pregnant, though she never confirmed how far along after announcing back in June. But the fact that she and her baby's life was in danger has her in a fragile state.
"Keep looking at my pictures & all my mentions like it really could've been R.I.P.," Yung Miami wrote on her Instagram story Wednesday. "I'm really not okay!"
TMZ reported that Miami, born Caresha Brownlee, was driving a Mercedes-Benz G Wagon when a car pulled up and started firing shots at the vehicle. Thankfully, she was not hurt even though sources reported nearly 14 shots fired.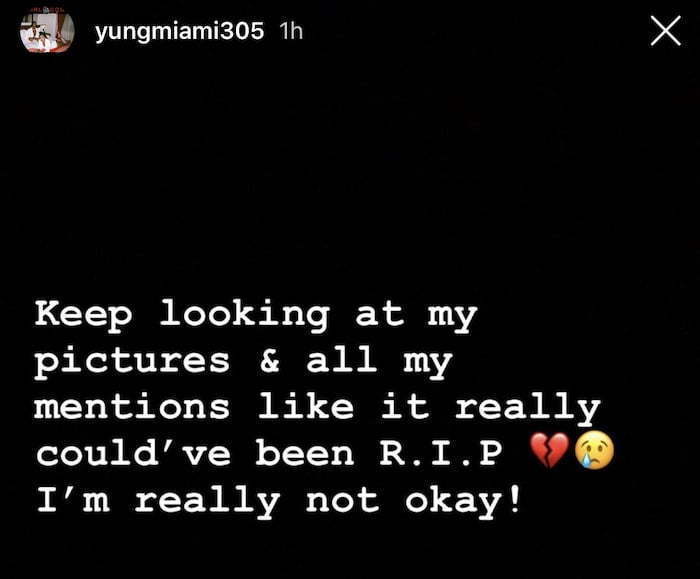 The shooting brought suspicions towards fellow Florida rapper Kodak Black, currently in jail, who is rumored to be Yung Miami's ex-boyfriend. Reports said Kodak wasn't too happy to hear that Yung Miami was pregnant and is now dating producer Southside. Last week Kodak released a freestyle from behind bars dissing the couple and even threatened to punch Miami in the stomach.
There is no clear indication if Kodak was at all involved in the shooting, or if it was just a case of coincidental timing.
On Tuesday, Caresha thanked everyone for their sympathy and prayers and assured her fans that she was physically okay. But understandably, after today's message, it's clear that the incident left some emotional scars.