DeMarco hit the gun range and some dancehall fans thinks it was a bad idea.
DeMarco has been busy practicing at the firing range while trying to develop his shooting skills and perhaps get some ideas for his new big hit. Some folks think that the artiste needs a whole lot more skill-at- arms training in order to keep himself safe and not lose some of his fingers. In a video clip which he posted on Instagram on Tuesday, the artiste is seen fitting an already-loaded magazine into a pistol, before firing 17 rounds as empty casings fall to his right. His Kingston 20 track providing a fitting soundtrack.
DeMarco picks up another pistol, fits the magazine loads in an unorthodox way, which many persons familiar with arms said was dangerous. Some of his associates in dancehall, Konshens about the way he put his thumb over the slide of the weapon as he fires 14 rounds. Finally, he switches to a rifle where he squeezes off 11 rounds, before the video ends, this time properly executed.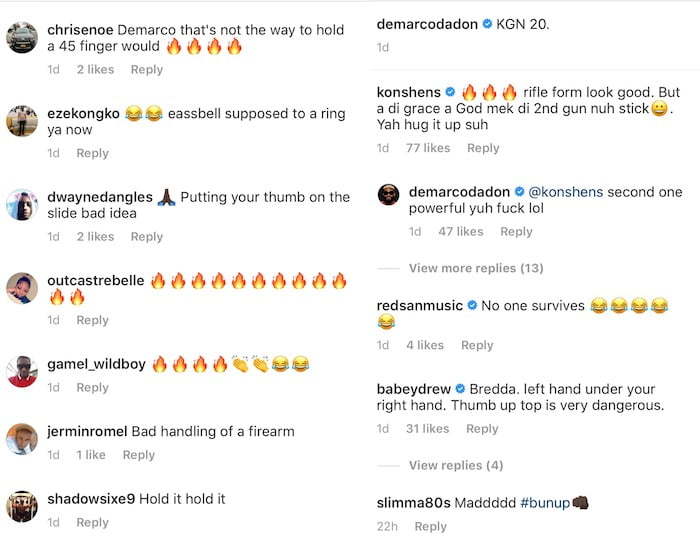 Konshens seemed impressed, by DeMarco's rifleman skills, but not with his use of the pistol. He responded to the post not too long after the video was uploaded.
"Rifle form look good. But a di grace from God mek di 2ng gun no stick. Yah hug it up suh," Konshens said, to which DeMarco responded: "Konshens, second one powerful yuh f@#k.
Gramps Morgan of Morgan Heritage also chimed in.
"We got to trin together bredda. Could show you a lot," Gramps said.
One follower, Donn Yungbuck Buchanan of StarBwoyz Entertainment, even asked DeMarco to set up an artiste's range day.
But many of his followers were far from impressed, pointing out that how he handled the second weapon was extremely unsafe. "Bredda yuh finger nuh fi deh pon top a di slide! And yuh hand nuh fi deh so near to di muzzle. Yuh nuh wul it good, but yuh stil a buss it good. Big up," steinavvsb said.
Bredda. Left hand up under your right hand. Thumb up is very dangerous," music producer Baby Drew told the artiste, his comments evoking several responses which supported his observation.
"Dawwgggg, mi see dat anno hope di G nuh loose a finger," dwaynefamous quipped even as another chrisenoe declared: "Demarco that's not the way to hold a 45…"
Others poked fun at the artiste, claiming that he was way off target. "@demarcodon, like u miss every shot fire at the target," an obviously infinitimax wrote, while antireal wrote: "Him miss every r@@s shot."
"But 30 only one hit," anthonysquidly35 announced. Some had rifle handling advice for the artiste: "Next time when you put in the magazine into the rifle, you tap it around three time to ensure it fits properly," campbell3866 advised.
"U want a clothes pin to practice in the morning, yuh hand shakey with the matic demarco," lawd_young said.
"Dem naw shot a soul…bait dem," deemusproductionz declared.