Less than 48 hours before the week-long Reggae Sumfest Reggae music festival officially gets underway, there is still a big uproar about the non-participation of at least two of the entertainers who fall under the Romeich Entertainment banner.
This afternoon music producer and artiste manager Romeich Major made a post on Instagram repudiating comments made by festival promoter Downsound Entertainment's second-in-command Skatta Burrell in today's Star tabloid, about a $3 million fee the manager had demanded for the appearance of Shenseea, Teejay and Ding Dong at the event.
"Great @skattaburrell me think a woman alone send in things to @deardreamofficial you did interview to star say me want 1 miL for each artist and you post showing now say u always tell lies cause u show the fee!! Next thing me know all music manager and artist will loose respect for you for this because we know what a good artist is valued and for you to be fighting the issue so much to Prove a point," Romeich wrote beneath the two screenshots he posted, one of a Weekend Star article and the other a text message conversation between himself and Skatta.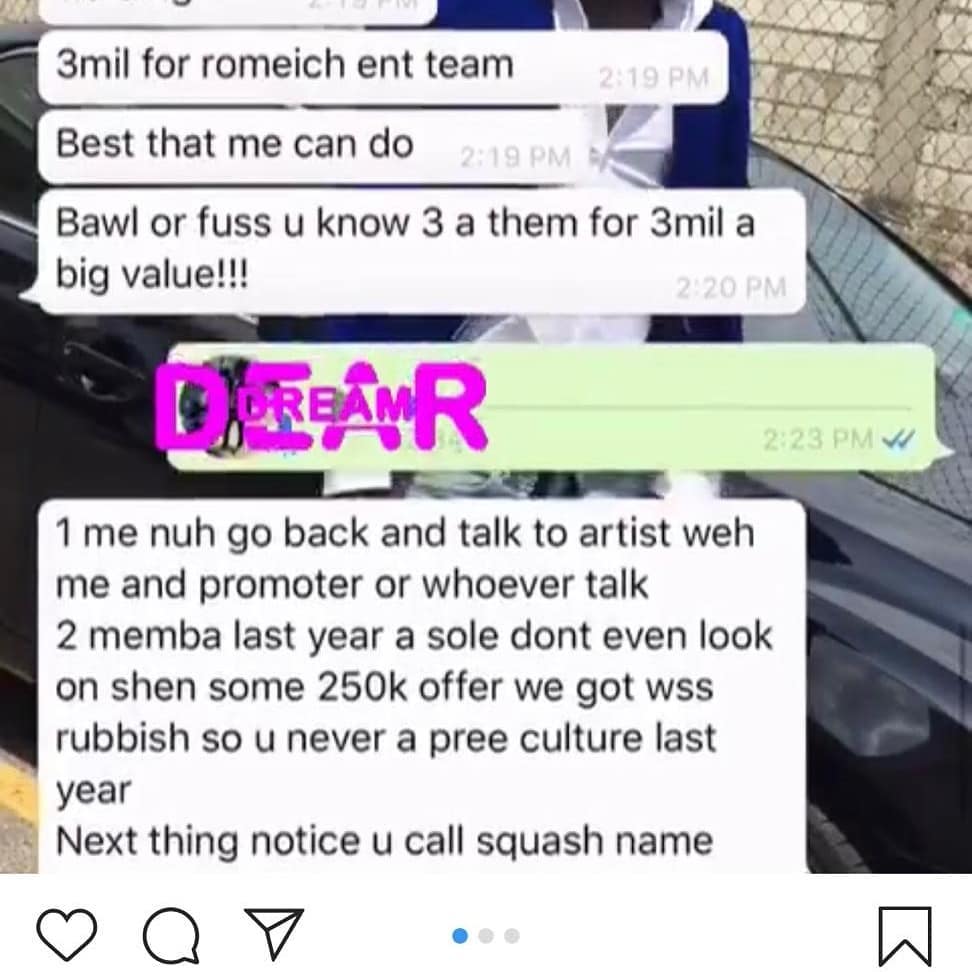 "It's real sad really sad cause is a crime to defend me TALENTS if i am to tell jamaica how much uno pay the other talents they woulda now see why i fight for my figures i want but see before me talk some things and make u loose your work and show people them why and what reason is behind you continuing this dont want to pay artist and a bring feelings me ago low this yah so and call it a day!!!! Mix up and Blender make #DANCEHALL NICE. THANK GOD ME A ME OWN BOSS MEMBA WATERWORL THIS SUNDAY!!!! #mascamp gate open 4pm finish 10pm," the Romeich wrote.
Skatta's comments in the Star were in response to Romeich's statements on TVJ's Entertainment Report last week, in which he claimed he was told that his three acts, Shenseea, Teejay and Ding Dong, were not worth his proposed booking fee, and as a consequence they would be absent from the event.
"He wanted a million each for three acts (Ding Dong being the third) and he did not like that we only wanted two, but when he said three of them together and gave us an ultimatum, we said let's negotiate that," Skatta is quoted as saying. The article also quotes Skatta explaining that Romeich was offered between J$300,000 to J$400,000 for each artiste, sums which he rejected.
Skatta also said Romeich and his artistes stood to gain more in terms of marketing, promotion, and publicity even if they performed at a reduced rate, as they would be showcasing their brand to a myriad of corporate leaders which was a better business decision, worth far more than a few "hundred thousand dollars".
In a sidebar article with Romeich's side of the story, he said, among other things, that negotiations broke down with Downsound's head honcho Joe Bogdanovich who was only interested in booking Shenseea and Teejay and rejected his third suggested artiste Ding Dong, whom he (Romeich) claimed was relevant and hot.
Romeich said negotiations fell apart mainly because he felt discomfited as Bogdanovich had stated that his artistes were not worth the fee he was demanding and offered them a paltry sum amounting to half of what he proposed.