Super Cat and Shaggy got beef.
The original Don Dadda Super Cat, apparently in a drunken stupor, put on an expletive-laced performance a dancehall session in Brooklyn recently, cursing and roughing up 'Soundboy' and other artistes, and hurled obscenities at even the US president himself. And while the Wild Apache bashed from King to pauper, the middle-aged Jamaicans who were in attendance found it funny, enjoyed every minute of it, knowing full well he was jesting. Super Cat, who coined the word "Boops" which became embedded in the Jamaican lexicon, had some choice words for Mr. Bombastic Shaggy, who incidentally is a longtime friend of his:
"Hey big p$#@y bwoy Shaggy. How come you a talk bout you a reggae embassy? Hey wi no need no Ambassador, yow p$#@y. Watch yah, dis bwoy yah, bloodc#@$t Shaggy, mi wi lick yo inn yo bloodc$#@t ears drum in front a di United States flag…Reggae no need no bloodc$#@t ambassador," the obviously inebriated dancehall veteran said.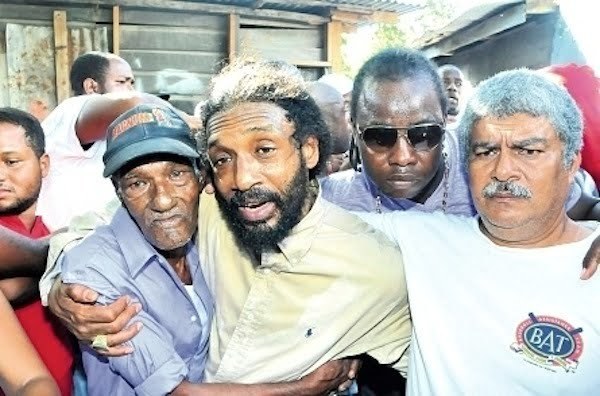 Super Cat's shenanigans are nothing new as longtime Dancehall fans or those schooled in Dancehall history would know. His career was partially built on clashes, and he is known for cursing out even some of Jamaica's prime ministers during his performances in his heydays, so it was no surprise when he turned on the President of the United States.
"Tell di big p@#$y United States and dem president, I don't bow to no p@#$y, oonu mus know di truth," he shouted in the microphone, evoking stifled giggles from the spectators.
Yami Bolo, who was attempting to take the microphone from Super Cat at one point, fell victim to the barrage of expletives and cussing that the clash king, whose real name is William Maragh, unleashed.
"Hey Yami, you fi blood$@#t learn. Shut up before mi lick out yo ears drum. You see Tenor Saw dead, a should you dead yo bloodcl&@t. Shut up before mi lick out yo bloodcl&@t ears drum! Go siddung!" Super Cat said, holding the microphone tightly and evoking a bout of laughter from the revelers who were in attendance.
"You no come a Hannah Town come see dead bwoy? Shut up before mi kick you inna yo p$##yh@#e. A you shoulda blood$@#t dead instead a Tenor Saw," he continued.
"I neva sell out no man inna United States; I can put my neck pon di blood$@#t chopping block. Di baddest bwoy dem a Brooklyn dem haffi look up inna mi B$@#clat gun when dem si mi," he ranted.
Super Cat is known for hits such as "Ghetto Red Hot," "Girls Town," "Nuff man a Dead," "My Girl Josephine," "Mud Up," "Yush," "Trash An Ready," "Cry fi di Youth," "Jamaica-Jamaica," "Vineyard Party" and a slew of others.
Supercat is credited with bringing dancehall to the globe. He was signed to Columbia Records in the 1990s and released two albums Don Dadda, and The Struggle Continues in 1995.