Tyga has joined the long list of artiste to boycotted Sweden over A$AP Rocky's arrest.
The Loco Contigo rapper is not the only artiste to cancel shows in support of the #FreeASAP Movement. The Movement began shortly after A$AP Rocky was arrested in Sweden for getting into an altercation with an overzealous fan who followed him and smacked his security over his head with an earphone. The incident resulted in a street brawl that landed the rapper in police custody. Nicki Minaj also took to Instagram story to let fans know she canceled her performance slated to take place in Saudi Arabia due to human rights issues in that country. She also throws her support behind the $FreeASAP movement.
On Thursday Tyga took to Instagram to announced his plans to pull out of his upcoming concert in Sweden. "I have decided to cancel my show. I will not be performing in Sweden this Sunday July 14," he wrote.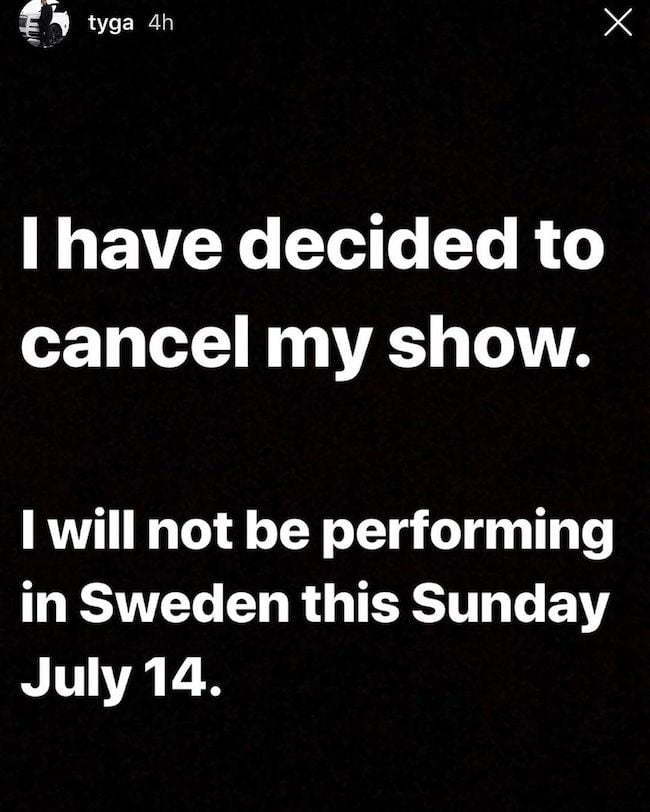 A large volume of fans took to Twitter in an attempt to get Megatron rapper to change her mind. "I'm tired of my fans sending me DM's saying they want to commit suicide. You guys will never know the things my fans express to me privately. It would break my me if even one of my fans were arrested, or BEATEN for expressing themselves. GOD is LOVE. NO disrespect to the Saudi govt" she replied.
The promoters and Saudi Arabia government stands to lose a lot of revenue due to Nicki canceling her concert. Some fans say they bought their tickets months in advance hoping to see their idol perform and now the promoters will likely have to refund these tickets?
Tyler the Creator, Schoolboy Q, T.I., and more have all vowed to stop traveling to Sweden at least until they release A$AP Rocky. Rihanna took to Instagram on Wednesday to post a pic sporting a black Tee-shirt with the word origin in support of the #FreeASAP.
Tyga latest collaboration with dancehall sensation Shenseea, "Blessed" has since received over 14 million views on YouTube in as little as a month. The "Girls Have Fun" rapper will be performing in Germany on July 12th.
#FreeASAP