Spice and her baby daddy are airing each other out on the Gram after she accused him of being a deadbeat dad.
Nicholas Lall is now claiming that Spice sold her soul or is involved in some sort of 'obeah (voodoo) practice for her career. The dancehall artiste is now the subject of ridicule courtesy of her children's father Lall, as the drama involving the two former lovers, continues to unfold. Today Lall posted a screenshot of lovesick WhatApp messages, he claims the artiste sent to herself with one of her own phones, in attempt to deceive fans into believing the messages came from him.
Spice had gone live on IG yesterday and had posted the screenshots of the messages she said came from Lall and bashed her ex for trying to discredit her as a mother, and other things. In the screenshot messages, Lall is pleading with Spice, whose real name is Grace Hamilton to essentially return home so they could 'kiss and make up.'
"Grace talk to me; Mum I need you ok I love we will overcome ok," the first two lines in the barrage of messages read.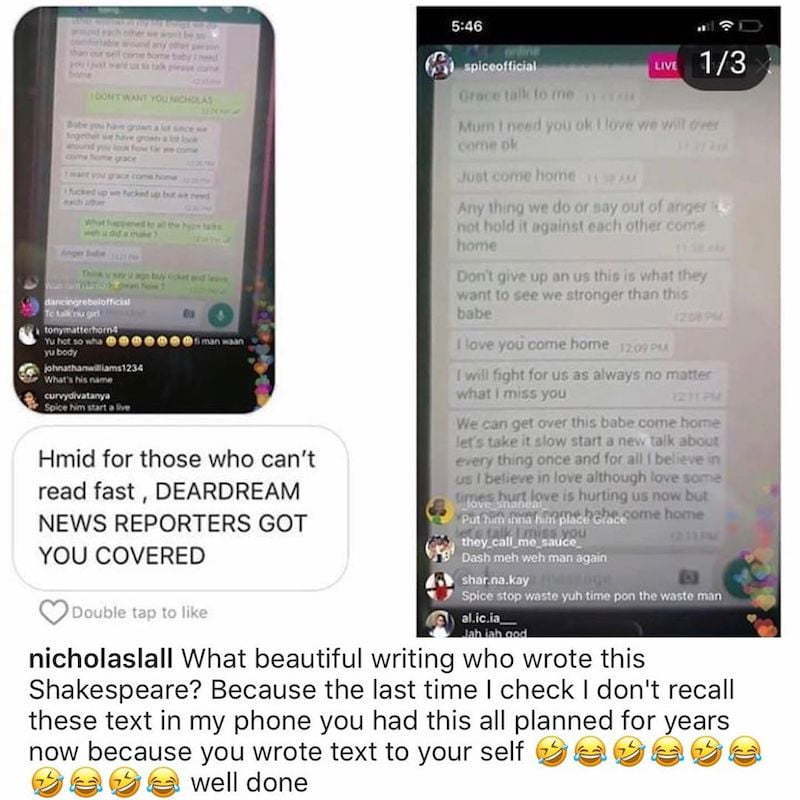 There was also a declaration to fight for Spice always, start anew and "talk about everything once and for all" in the eight messages sent before the Dancehall Diva even responded. When Spice finally answered to the messages which supposedly came from Nicholas, the message came as a big shout in all capital letters: "I DON'T WANT YOU NICHOLAS!"
Despite Spice's rejection, more messages of love poured forth, allegedly from Lall, who was very persistent in his pleas. But today, in mocking his former lady love, whom he claimed was up to her regular tricks, Lall wrote beneath his screenshots of her posts, this morning:
"What beautiful writing who wrote this Shakespeare? Because the last times I check I don't recall these text in my phone you had this all planned for years now because you wrote text to yourself …well done."
Lall also uploaded a second photo in the same post of himself with their two children Nicholas Junior and Nicolatoya.
"All I wanted was to see my kids and this is what I get. Well I always say do it for the love people and not for the likes. Bash me all you want; it all good. If it wasn't for them, I would do the most but I respect my kids," he captioned that photo.