Did Shenseea box her ex-best friend in a fight last weekend?
Shenseea's attempts on Instagram, to urge her followers to watch her Blessed video, has been disregarded by many of them who claim they are only interested in hearing the artiste's explanation about an alleged bust-up between herself and one of her friends. Reports have been circulating over the last few days that ShenYeng had boxed one of her close friends at a party, but the artiste has not confirmed or denied that the incident took place.
However, according to the followers, seeing a video of the supposed fight or a commentary about the incident from her is of greater importance than watching the music video, which, according to the artiste has now racked up 14 million views.
"Guys click the link in my bio to watch Blessed video," she said in a short video clip in which she modelled skimpy multi-coloured vinyl shorts and matching jacket. Another one of Shenseea's friends made the below post on her IG Story addressing the rumors.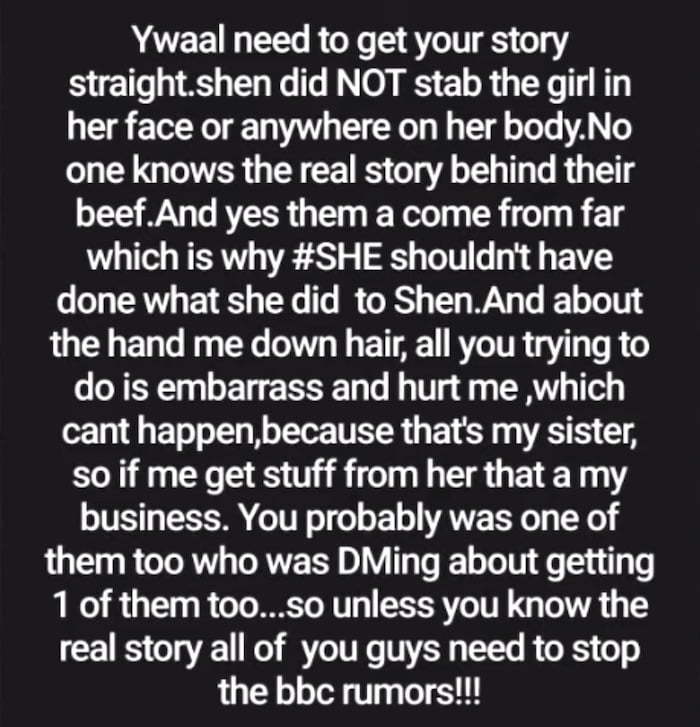 But her followers declared outright that they had a right to know about the fight, and many demanded that she address the matter frontally unless she had something to hide, claiming that right now her music video, in the scheme of things, is irrelevant.
"Mi watch the video so many times already mi Wah know bout the fight," one fan wrote while another added, "Kmt all now we caah see not one video we nuh care bout blessed." On and on the comments came, fast, furious and intrusive. "Me proud a you Shenseea…but right now, a the fight me waa hear bout," demanded kyng_ceejay. Another writer, darkskin.kimmy seemed fed up of waiting to hear Shenseea speak.
"All now she cyah mek the video telling us Wah happened. WE'RE WAITING," she posted.
The messages calling for the fight video persisted and even spilled over to her other posts, the followers apparently trying to ensure Shenseea got the message that they meant business.
Her penultimate post where she noted: "Had a blast with all my real day ones I just feel good when I hear my team mate songs and my songs in the streets" was met with chagrin and ridicule.
"Not here for this. I heard there was a fight?" rawseclaat wrote. The first post Sheseea uploaded on the same day also came in for the same treatment. Her notation "Thanks for all the support thus far… Blessed ft @tyga is fxcking up the place! Link in my bio," was met with fury from yourfavbrowning.
"Nobody nuh g.a.f. bout yuh song. Talk 'bout the fight if fight did really gwaan," she ordered the artiste.