Drake has revealed his pick for "Song of the Summer," and it will surprise you.
When you think of "Song of the Summer" for 2019, the first song that would come to mind is Lil Nas X's breakout hit "Old Town Road." The viral single has been dominating the entire year and is in the runnings for "Song of the Year." Nevertheless, Drake has a better ear for music than most of us and his pick for the biggest summer banger is Ambjaay single "Uno."
There is no doubt that Ambjaay's new song got a vibe, but does it got that "Old Town Road" or "In My Feelings" type of viral vibe? Drake thinks so, and he sent the young artist a direct message on Instagram telling him that the song is fire. The best part about the exchange is Jaay's reaction to getting a co-sign from, arguably, the biggest rapper on the planet currently.
"Bro you snapping on everything that song going too insane," Drizzy wrote before adding, "I guarantee next 3-4 weeks it's the biggest song of the summer."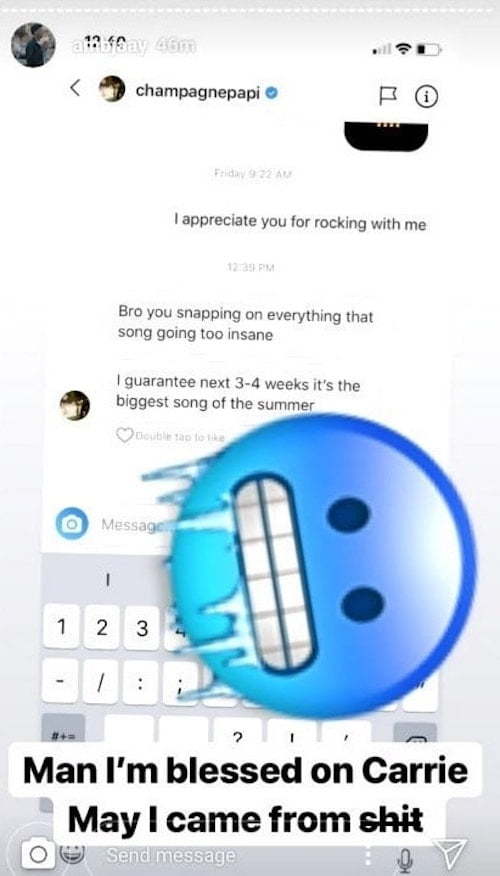 Ambjaay posted the screenshot of the message on his IG Story where he told his fans how blessed he felt getting a major co-sign. In the next 3-4 weeks, we will be in the middle of the summer, and we will see how much the song has grown. Drizzy thinks it will be the biggest song on the airwaves. The single has been blowing up on TikTok and fans on streaming services are just starting to catch on.
Aside from predicting the next viral single, Drake recently announced that he is in "album mode" meaning he is recording his upcoming album.