Kodak Black says he fears that the FBI is targeting him similar to Tekashi 6ix9ine.
Kodak Black is currently in police custody following his arrest on Saturday night at the Rolling Loud festival in Miami. The Florida rapper was picked up in a joint operation by the FBI and Miami-Dade police. He was later charged with weapons possession. This is his second arrest in the past couple of weeks, and sources close to the Sniper Gang rapper told Urban Islandz that he feels that he is being targeted by the feds similar to how they target Tekashi 6ix9ine.
"The feds targeting that man (Kodak Black) just because he is a successful black man and they don't like to see that," sources said. "C'mon we ain't going out like 6ix9ine we ain't committing no crimes. We just out here making good music for the fans and performing for the fans. They don't want to see a ni*** be successful."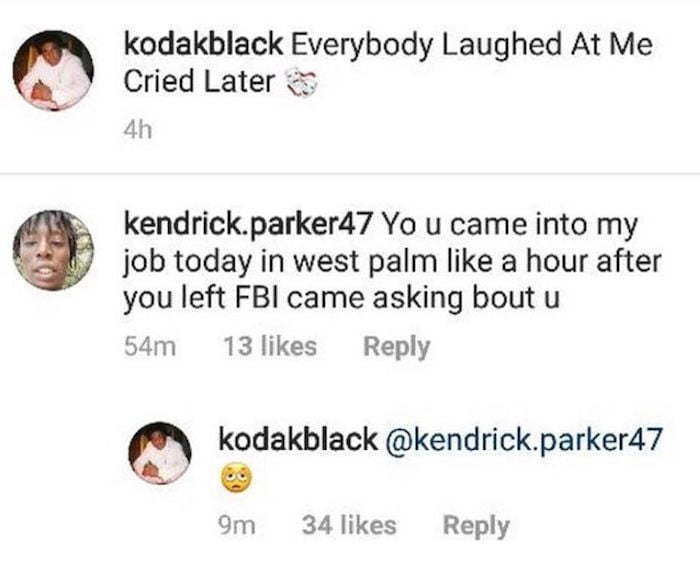 We're also told that Kodak Black knew that the FBI was on to him because he got a tip-off from one of his fans that an agent has been following his every move. The fan left a comment on one of Kodak's posts on Instagram telling him that FBI agents came to his place of work just moments after the rapper visited the establishment.
On Saturday evening, the ATF, Miami-Dade Police's Gang Unit and United States Marshals converged on the Rolling Loud festival in Miami and arrested Kodak Black. His court hearing is set for this week when we will know the full extent of his charges. He is also expected to apply for bail which will be totally up to the judge.
Kodak Black just got arrested at Rolling Loud before he was able to perform ? pic.twitter.com/EZSZ1g8hxs

— adam22 (@adam22) May 12, 2019
The Dying To Live rapper has had constant runnings with law enforcement. Last month he was arrested at the Canada-US border for gun and drug possession. The arrest forced him to cancel a number of shows on his tour.