An up-and-coming dancehall artiste bleached half of his face and die half of his hair blonde.
Hardcore dancehall deejay SKP says bleaching half of his face will help his career in Jamaica's popular music scene. We're living in an age where shock-value carries more weight that talent and sometimes we even see talented artists locally and internationally using shock-value to help push their careers. The question for SKP is, why he thinks that this drastic image altering move is right for his career. In a recent interview with the Star, the deejay expressed his confidence with his decision.
"Me just a try be different from every other person me see out there, something weh a go tek me to the international market and grab them," SKP said.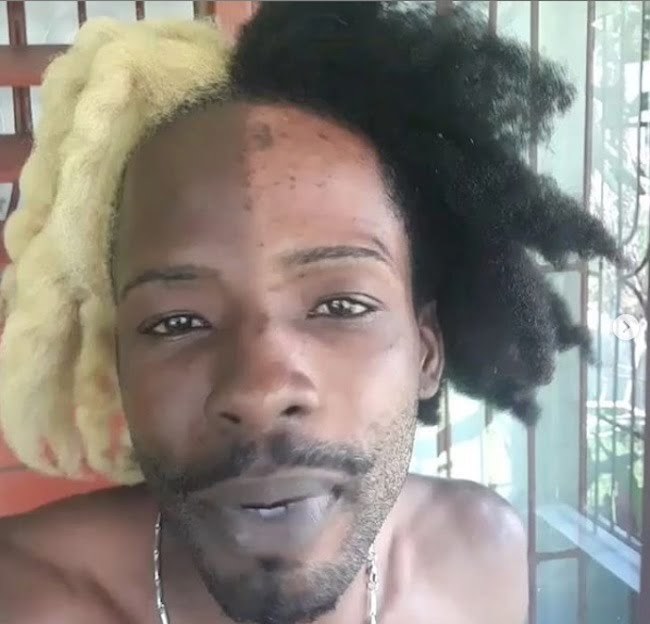 The deejay continues, "The idea come to me like a gift, and me just start use cream and light out one side of mi face, and see seh it a work." SKP is hailed from Bog Walk, St Catherine and has a few singles available on YouTube like "Cool Like Sunday," Splash Weh," and "Ghetto Life."
The dancehall deejay vows to maintain his half bleached face image if he gets his big break. He also noted that he might even alter his image even more as he currently got more ideas. SKP also addressed rumors that he is a madman saying that he is very much sane and will prove all of his haters wrong.
Over the past decade, we've seen a handful of dancehall artists doing things like bleach their skin and fake tattoo their eyeballs as in the case of Vybz Kartel and Alkaline. Other artists have taken the traditional route and let their music speak for itself like Popcaan who is now one of the biggest dancehall artists on the planet.