Takeoff and Gucci Mane are not seeing eye to eye at the moment.
The Migos rapper called out Gucci Mane on Instagram for making a post about how he helped Quavo, Takeoff, and Offset back in the day. Guwop posted a video of himself and Migos in the studio, but it's his caption that caught Takeoff's attention. While Gucci didn't mean any harm in his statement, but his Atlanta comrade felt some type of way about it.
"#FBF The First day I met the @migos @quavohuncho @yrntakeoff both threw away the fake chains they had on cuz I gave them them both the 2chains off my neck same day @offsetyrn called from jail and told me send racks to his lawyer to get him out and I did that the same day off our first conversation #NoCap #IGETTHEBAG #1017GlacierGang," Gucci Mane wrote.
Takeoff left a comment on the post that reads, "Das CAP U Kno Dat… But I'm So Blessed We Gon Leave It @ Dat…Thank You."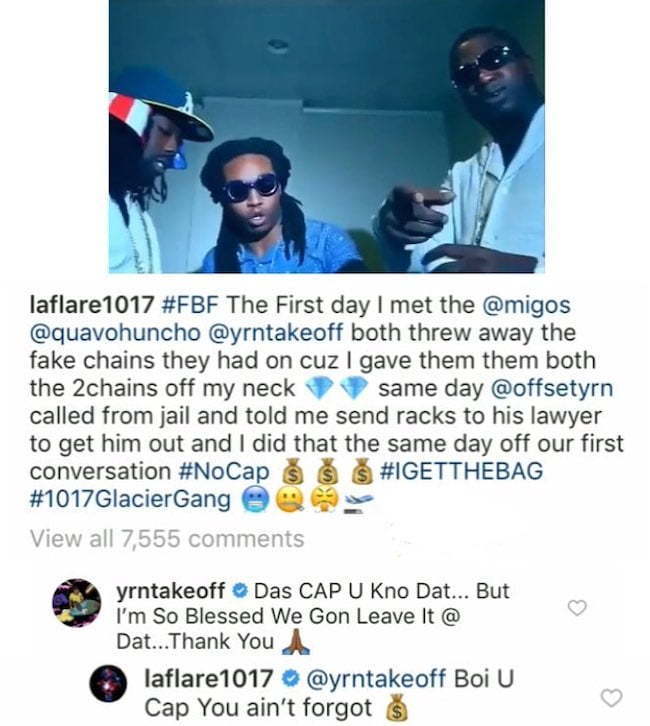 Gucci and Migos have been friends with each other for years, so I doubt this little social media spat will drive a wedge between Guwop and our favorite rap group. Nevertheless, social media is not the place to air out your difference. They all have each other numbers so am sure they're all just a phone call away.
Perhaps Takeoff is in disagreement about what really happened that day when they first met, or maybe he feels like Gucci Mane shouldn't have publicized what he did for the Migos. Whatever is his reason, they can work it out like two grown men.