Future compared himself to Nipsey Hussle turns out to be a big mistake.
The Freebandz rapper made a statement about Nipsey Hussle on Instagram on Wednesday, and now hip hop fans are dragging him relentlessly for it. Young Scooter shared an old tweet from Nipsey where he spoke about teaching his friends how to hustle. "I taught all my ni**as how to fish," he said in the old tweet dated back to December 2017. "Some caught more than others, some said they rather be fed."
Future found it appropriate to weigh in on the post where instead of praising Nipsey, he compared himself to the late rapper. "Yeah we do need more like us," he wrote on the post. "I been teaching and preaching for a decade also showing and proving what hard work and dedication get u. #RIPNIP."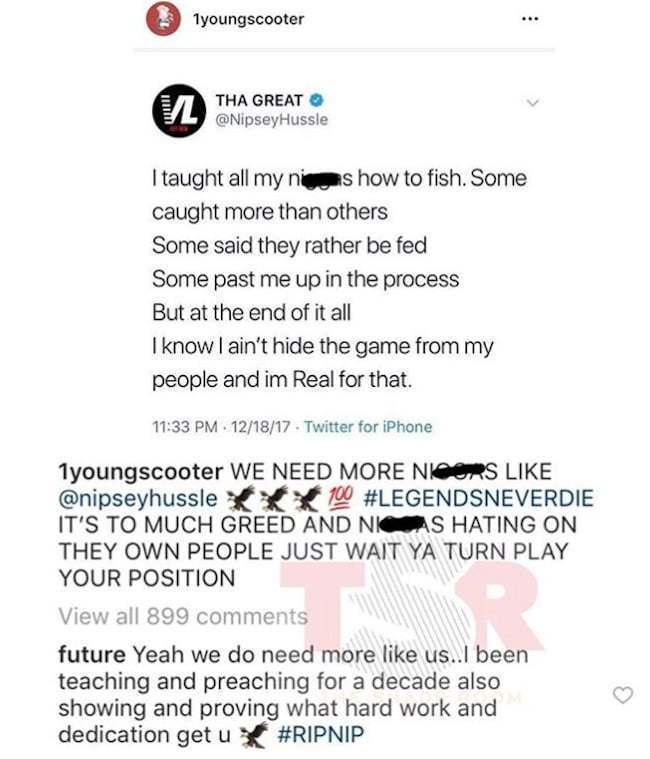 Some fans think that the only preaching and or teaching that Future does is about taking drugs and cheating on women. "Mr. I want my credit to you can't even respect a woman or be faithful," one fan wrote. "It shows that real Kings doesn't just have a following, but a family foundation also. Sh*t crazy everybody want recognition for sh*t that they should be doing and not doing."
"Future boy that's a big cap. No you need to help these kids you a influencer bruh get these young ni**as off the street. Teach them how to own sh*t. Y'all ain't teaching them nothing but drugs. Bruh stop with the cap my ni**a," another fan wrote.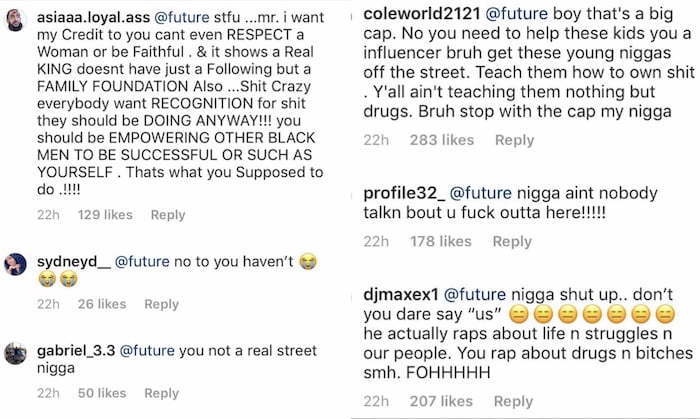 It's clear that Nipsey Hussle fans are not with Future comparing himself to the late rapper who was a pillar in his community. The Crenshaw rapper was shot and killed in front of a clothing store that he owns in his neighborhood. One man is currently in police custody for the murder.