Tekashi 6ix9ine and his girlfriend Jade are still going strong.
The model poured cold water on rumors that they broke up after he became a snitch. Jade posted a pic on the Gram showing she and Tekashi 6ix9ine holding hands while showing off their iced out watch and bracelet. She captioned the post, "Forever free the real and f*** the fake." 69 and Jade have been dating for almost six months now, but over the past few weeks reports surfaced claiming that she parted ways with him over his snitching.
On Valentine's Day, she posted a pic of him while wishing him happy V-Day. But it was what she said in the caption that caught everyone by surprise. "I always knew you were a rat a*s ni**a," she wrote. While she did add some laughing emojis, 69 is, in fact, feeling a lot of fallout for striking a plea deal with prosecutors to save himself.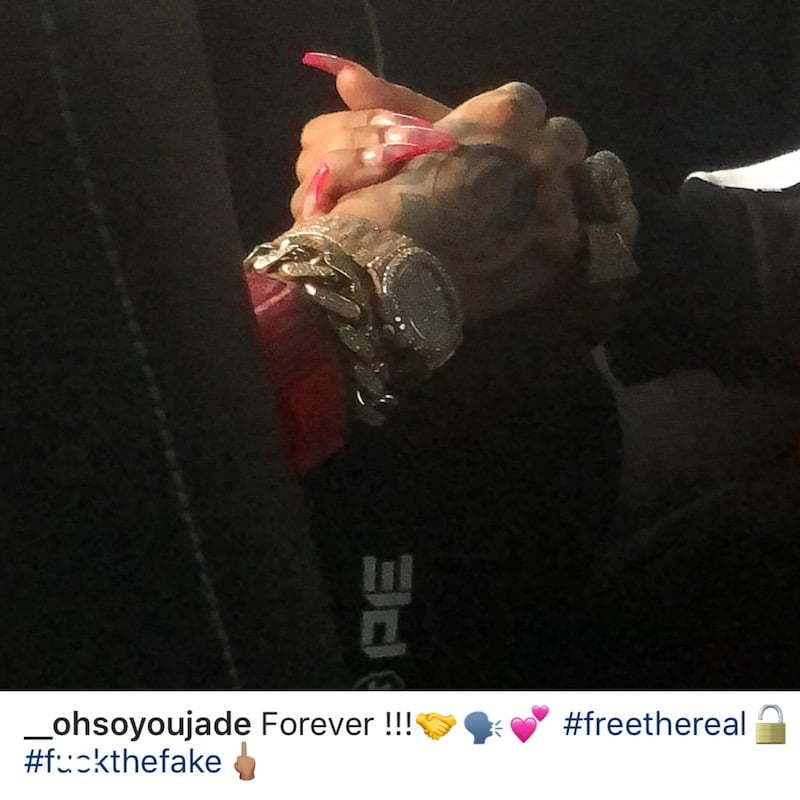 Fans are sounding off in the comments, telling her to get out, while others are supporting the two being together. "Get out sis run as fast as you can cuz if this ni**a gets out he is dead and if you're caught with him when they come for him you're dead too," one fan wrote.
Another fan wrote, "Everyone on here comments but nobody know sh*t lol everyone knows what people report but nobody really knows so why don't everyone get off their dick let them be."
Tekashi 6ix9ine is currently in a Brooklyn Detention Center awaiting the outcome of his racketeering case. His plea deal with the government will see him testifying against his former Treyway/Nine Trey gang members including his former manager Shottie. He also gave up two of his former associates who he said he paid thousands of dollars to shoot at Chief Keef in New York last year.