Did Popcaan diss Teejay in his hot new single "Trigga Play."
Popcaan and Teejay have been rumored to be at war with each other, and now dancehall fans are suggesting that the Unruly Boss is dissing the Mobay deejay in his gritty new single. Shortly after dropping the track on YouTube, Teejay clapped back at Poppy in a new single "UpTown UpTown."
The beef between the two deejays started last year when the Unruly deejay took a subliminal shot at the Braff deejay on Instagram.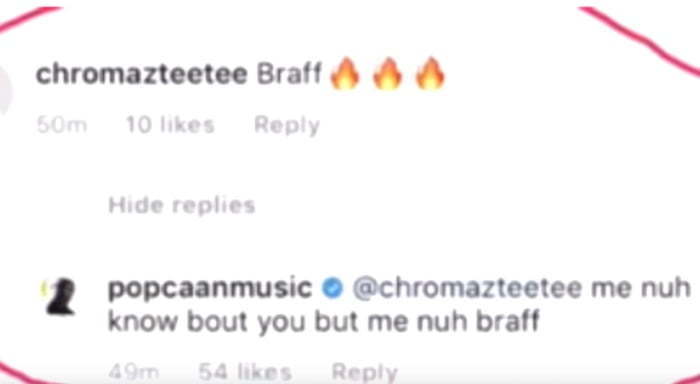 While they didn't release their songs as diss tracks, it's evident from the lyrics that some subliminal shots are being fired in both directions from the two artists.
"Zoom in dem big head suh clear pon di lense / Pu**y try hide but him doh have nuh sense / 50 caliber just fly thru di fence / F*** up dem defense / Likkle force ripe pu**y dem a brite up / Real killy killy buss him head as him a hype up," Popcaan deejay.
"Uptown Uptown circle them ends every face touch ground / bare bag a noise them a little gun clown / Walk through them yard wid two rifle in a mi hand / weh dem say dem run watch dem a run round / Wave the rifle pon boy yo hear the gun sound," Teejay deejay.