Tay-K went viral again but it's not for his music.
Tay-K, real name Taymor McIntyre, is currently behind bars awaiting trial for the murder of Ethan Walker. All of his co-defendants, who were his friends and accomplices, have struct plea deals with authorities, but "The Race" rapper remains defiant. Over the weekend, a new photo of him surfaced from behind bars showing him wearing what appears to be a anti-suicide smock while talking via the phone to another person who appears to be the photographer.
The photo quickly went viral as soon as it hit the net with his fans going into panic mode over whether or not he is trying to commit suicide in prison. Tay-K's manager has now stepped forward to comment on the photo due to the severe public interest about the rapper's well-being.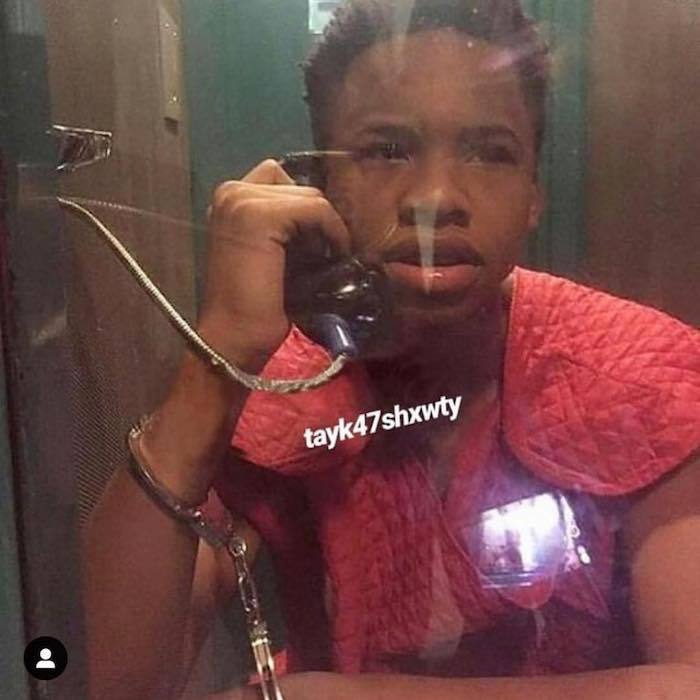 "That picture is over 7 months old. Tay is not suicidal," he said in a message posted on Instagram Story. "He did that to get out of the solitary confinement he's been in for close to two years. Crazy the extremes you have to take it just to be treated humanely in a f***ed up situation"
Solitary confinement is known to affect inmates psychologically, and now we're learning that Tay-K has been in solitary confinement for close to two years.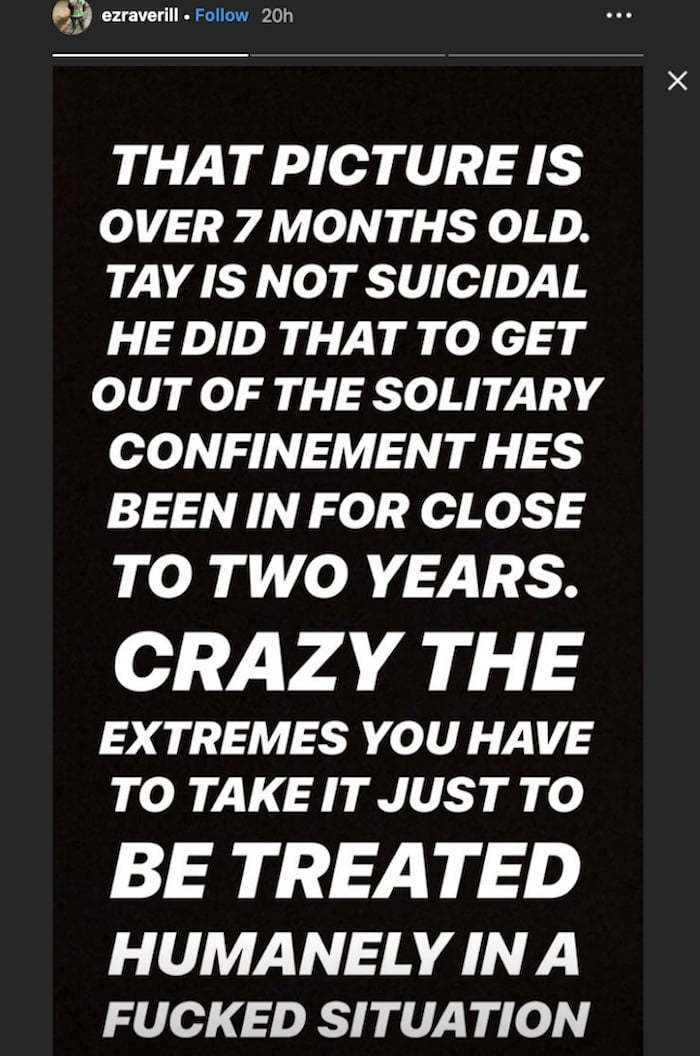 The 18-year-old rapper and six other of his associates were arrested in July 2016 and charged with capital murder. Cops say that on July 26, 2016, Tay-K, real name Taymor McIntyre, and his associates robbed 21-year-old Ethan Walker at his home and shot him dead. The rapper was placed on house arrested but later cut his ankle monitor lose and went on the run. While on the run, he allegedly robbed and beat up 65-year-old Skip Pepe in Cravens Park, Arlington.
Tay-K was eventually captured on June 30, 2017 by U.S Marshals in New Jersey. He has been held in an adult prison since then.