Soulja Boy has a new take on his Blac Chyna breakup drama.
Soulja Boy is either trolling or just milking every drop of free press he can get out of this story. On Thursday, Big Draco tweeted that he only wanted to test Blac Chyna's good good, but offered up an apology when fans called him out over it. It appears that the SODMG rapper is having another change of mind and is retracting his apology while suggesting that the reality star hacked his Twitter account and sent out the apology tweet.
"Blac Chyna hacked my phone. Smh I didn't tweet that last tweet apology. I left my phone at her house smh," he tweeted.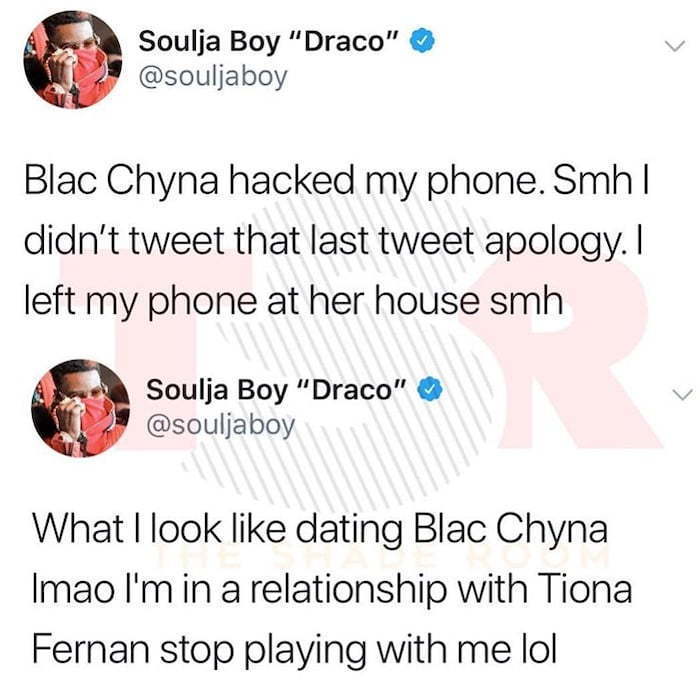 Soulja Boy also told his fans that he is currently back together with his ex-girlfriend Tiona Fernan. "What I look like dating Blac Chyna lmao I'm in a relationship with Tiona Fernan stop playing with me lol."
Earlier he said on Twitter that he and Blac Chyna have a mutual friendship and that there is nothing more to it. Nevertheless, the two spent Valentines Day together and have been parading around Los Angeles with each other for the past two weeks. Sources claimed that the two had a heated argument over Tyga, who is Chyna's baby daddy and Soulja Boy's arch enemy.