Etana offload on an internet troll who criticized her on Twitter for appearing at the Grammys.
Reggae songstress Etana came within close proximity of getting her hands on a Grammy award. The singer was nominated for Best Reggae Album which Shaggy and Sting ultimately won on Sunday night. Nevertheless, she took her loss gracefully and even celebrated with Shaggy in Los Angeles after he picked up his second trophy. She is now making headlines for her running with a fan on social media.
The fan, whose Twitter handle can be seen below, comments on Etana photo with some negative views and clearly that got right under her skin. "Remember the days when Etana was the conscious one???," the fan wrote to which Etana quickly clapped back, "A wah now, who the f**k are you to decide whether i'm conscious or not. I'm on the red carpet where the f**k you at?"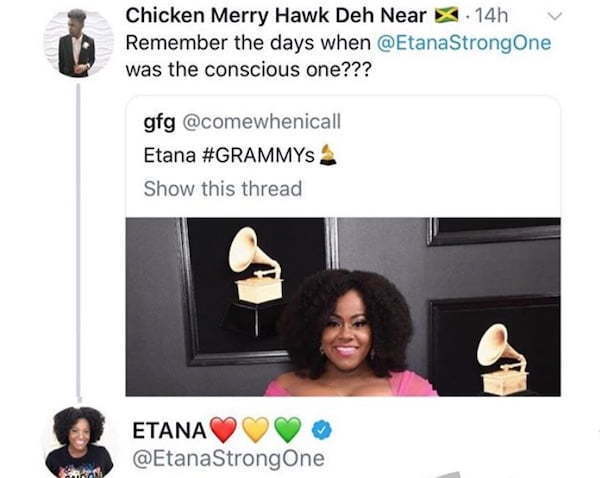 The two later engaged in a heated back-and-forth continues with Etana ending her rant saying, "Do what the fux I want don't you stop text me dog sh*t! Crawl back in your hole and gtf off my timeline."
The fan clapped back at Etana by making references to her past controversial statements on Trump. "You no conscious, from you mek dem Trump statements deh," he said. "A conscious person would never think to say a white woman ain't white just because she can't speak English or cause her accent different."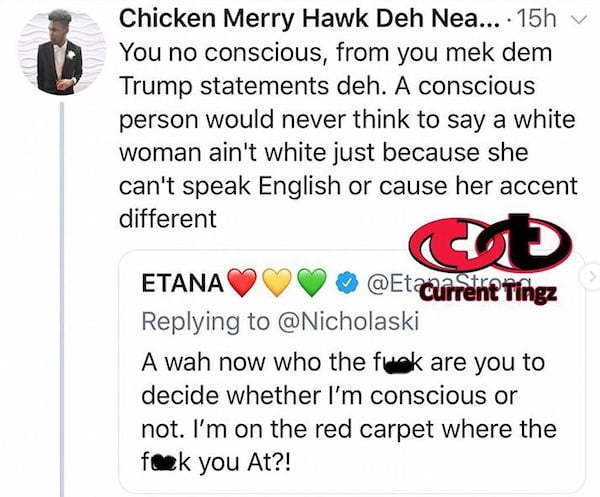 "Me see people do much more and unnuh still crawl inna dem batty hole lowe me dog sh*t," she continues.
In all fairness to Etana, she should be celebrated right now by the reggae community for being the only woman to receive a Grammy nomination in the Best Reggae Album category. She has since deleted the tweets.
Who nuh like me just nuh like me it's all good. Nah beg no friend and no likes!

— ETANA???? (@EtanaStrongOne) February 12, 2019
I appreciate my real fans even more in these times big up UNnuh self near and far ?????????? perfect love!

— ETANA???? (@EtanaStrongOne) February 12, 2019