Keyshia Cole explains why her divorce from Daniel Gibson not finalized.
Both Keyshia Cole and her estranged husband Daniel Gibson have moved on with other people, and in fact, the R&B singer has been showing off her new boyfriend, Niko Khale on the Gram. Despite living their separate lives, the old flame remains legally married, and now a judge is threatening to throw out the divorce case if both parties don't finalize it soon.
Keyshia Cole has been warned by a judge, according to The Blast. If the case is thrown out, then she will remain married to the former NBA player. Cole has since responded to the reports saying that Gibson wants sole custody as well as spousal support, neither of which she is willing to give.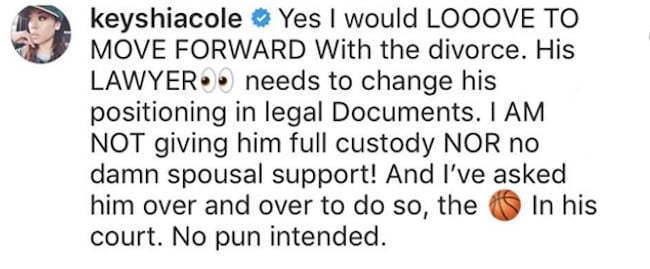 "Yes I would love to move forward with the divorce," she wrote. "His lawyer needs to change his positioning in legal documents. I am not giving him full custody nor no spousal support! And I've asked him over and over to do so, the ball in his court. No pun intended."
The couple got married in 2011 and had a son together named Daniel Gibson Jr. Keyshia Cole filed for divorce in 2014 citing irreconcilable differences in her divorce docs. She also requested joint physical and legal custody of their son.