Rae Sremmurd is no more according to Slim Jxmmi.
One half of Rae Sremmurd, Slim Jxmmi, announced on Twitter on Saturday that he is going solo. His announcement comes just hours after the group performed with Nicki Minaj in Australia. It appears all was good then so it's unclear what happened since that performance. In a since-deleted tweet, Jxmmi wrote, "I'm not Rae Sremmurd I'm slim jxmmi and ima sink or swim by myself."
In another tweet, he told his fans that they still got Swae Lee and that he is not SremmLife anymore. He has since deleted the tweets bit not before we grab a screenshot of them. There have been rumors for months that Rae Sremmurd has been having some troubles. The chatters started when the group went on tour last year summer with Wiz Khalifa.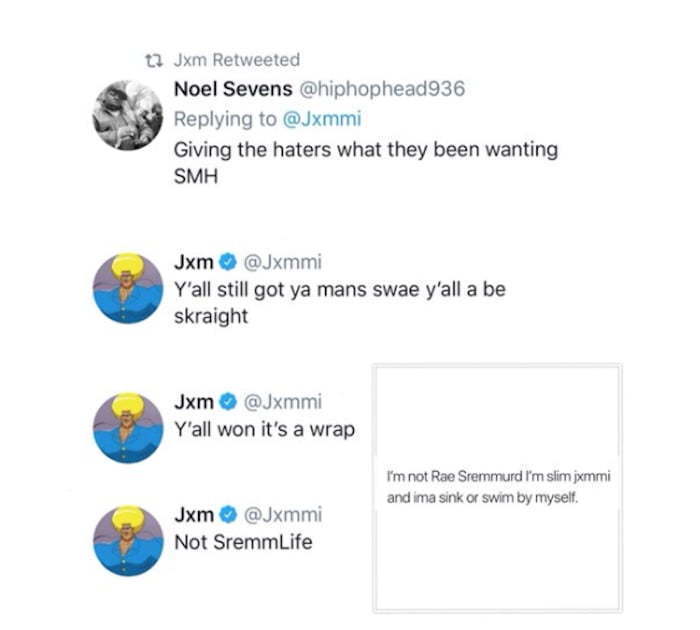 Just last week, Swae Lee sent out a tweet to help quell the reports. "I'm never leaving SremmLife stop the speculation," he tweeted. Let's also not forget that they released solo albums last year and the next installment in their SremmLife album has been delayed for months.
I'm never leaving SremmLife stop the speculation ?

— Swae Lee Lee Swae (@goSwaeLee) January 7, 2019
Whatever is happening between Slim Jxmmi and his brother Swae Lee, let's hope that they work it out. Rae Sremmurd for life. Jxmmi also sent out a post on his Instagram account that reads, "Rip Slim Jxm."
https://www.instagram.com/p/Bsiv35qBtgx/