Iggy Azalea drops a sneak diss at Nicki Minaj and Cardi B on Twitter today then gets called out by fans.
The bickering between Nicki Minaj and Cardi B seems to be never-ending. On Monday, the Trinidadian rapper unleashed her fury on the new episode of her Queen Radio show on Apple Music's Beats 1. Shortly after that, Iggy Azalea, who has a history of bad blood with Nicki Minaj, seems to have tipped her hat into the arena. Hip-Hop fans quickly noticed and called her out over it and then she backtracked.
"Mad funny how people talk sh*t about someone but d*ck ride on sight," the Australian blonde bombshell tweeted. While the tweet is still up, and I don't see any reasons to delete it, she has been getting a lot of shade from the Barbz and the Bardi gang. She has since responded saying that nothing she said has nothing to do with neither Nicki Minaj nor Cardi B.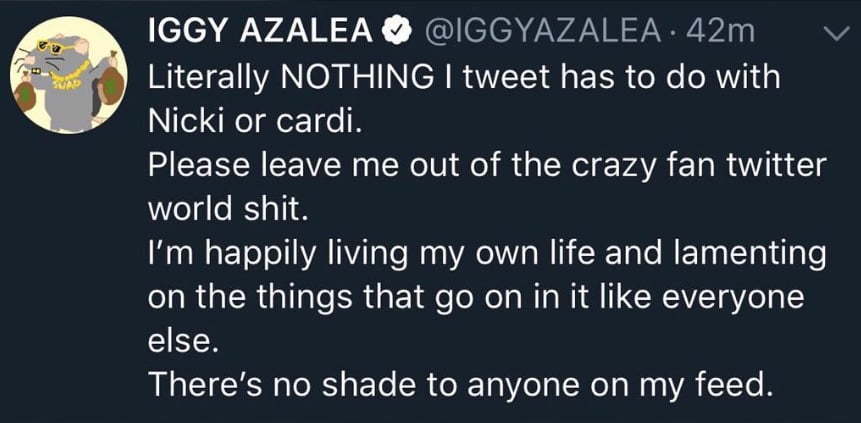 She is absolutely right since she never mentioned either of the two females names in her tweet, but the fact that the tweet came just moments after Nicki got riled up over her feud with Bardi, doesn't seem like a mere coincidence. Nevertheless, she wants fans of the two female rappers to leave her out of the nasty Twitter feud among themselves because she is happy living her best life with her new boyfriend, Playboi Carti.
The "Dip" rapper made plenty of fresh accusations against Cardi B including claims that she prevented 21 Savage from appearing on two songs with her. Of course, Bardi has denied the allegations and 21 Savage has remained silent about it, and he should. Iggy Azalea has since deleted her response to the backlash and even that some fans are angry about. You just can't please everyone.
https://twitter.com/IGGYAZALEA/status/1056988764222955520
This bih wanna TEST THE KINGDOM! She gonna feel our wrath

— Pink Envy (@PinkEnvyMinaj) October 29, 2018
She's talking about onika clearly

— ? (@stargworl) October 29, 2018
Nah just stream #queen so ur fave get the platinum album she tweeted about and yet she doesn't have ? it's embarrassing

— marouan (@marouanXO) October 29, 2018
she didn't blame a baby, you didn't listen sweetie, & for statuts.. ?.. pic.twitter.com/7bvrAxiRam

— dutchess (@issafactsir) October 29, 2018
Iggy, I like you, I really do, but don't get it twisted. Imma barb before I'm a iggy fan. We saw yo tweet and got screenshots. Stop sending subs n deleting, be direct. But if you keep it up, yo pasty ass will be exposed NEXT?

— Nicki Mathers ?? (@thatssomathers) October 29, 2018