Chris Brown and Diddy were in attendance at Drake's 32nd birthday bash in Los Angeles.
Drake celebrated his 32nd birthday on Tuesday (October 24, 2018), and on Wednesday night he hosted a massive 2000-themed birthday party at Goya Studios in Los Angeles. A ton of celebrities were in attendance including his former foes turn friends Chris Brown, Diddy, and Tory Lanez. Over the past few weeks, we've seen Drizzy and Breezy made a consistent effort to put their differences aside in the spirit of peace, love, and unity.
We saw Drake brought out Chris Brown at one of his "Aubrey and The Amigos Tour" stops in California recently, and now we saw the two of them posing for a pic together. Sources who were at the party says that the R&B singer and the Toronto rapper were chopping it up and drinking expensive refreshments at the party. As for Diddy, we're told that he was low-keyed at the party and was spotted hanging out with French Montana, who is a good friend of the 6 God.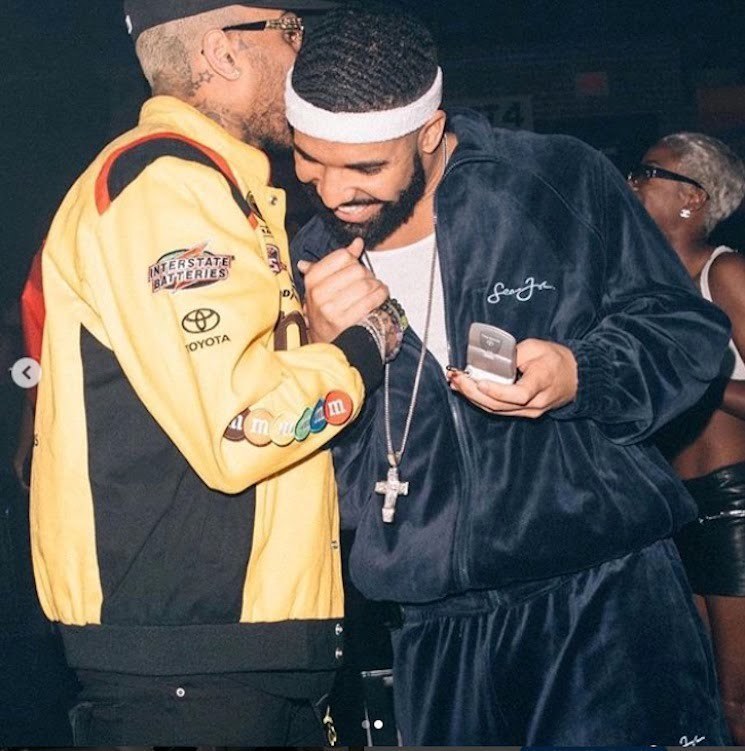 Drake and his crew went all out for this party with almost everything from the 2000s era including flip phones, a Blockbuster DVD storefront, 7/11, headbands, jerseys, and some pimped out rides from MTV's famous show Pimp My Ride. Drake paid homage to Fabolous with his attire, calling the New York rapper one of his biggest inspirations in rap.
The 6 God managed to get a custom Motorola Timeport cake for the party and even had a painting of Bob Marley hanging on the wall.