Tekashi 6ix9ine shared his reaction to Chief Keef's armed home robbery last week.
Tekashi69 is clearly not a fan of Chief Keef and vice versa, so the hate goes both ways. Last week, Sosa's home was burglarized by armed robbers who jumped a wall and broke a window with a brick to gain access to the San Fernando Valley property. Luckily for the Chicago rapper, cops were already on patrol in the area and spotted the thieves in action. One of the robbers fired a shot at police officers but eventually, both of them was captured and taken into custody.
Tekashi 6ix9ine ceased on the opportunity to take a dig at Chief Keef with whom he has been beefing with for the past couple of months. The New York rapper posted a screenshot of the news clipping on his Instagram with the caption, "Anybody know any good movies on Netflix? #Getthestrap."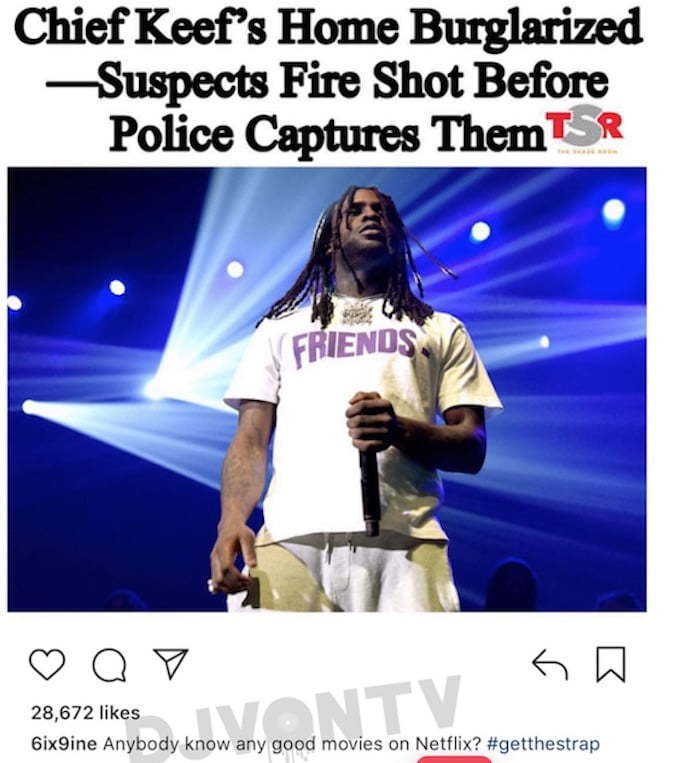 6ix9ine has his own legal troubles to address after federal agents raided his home in Brooklyn on Friday and found a gun in the house. There is still no word from authorities why the home was raided, but the rapper was not home at the time, he hasn't been in the home for the past few weeks since he is overseas touring. As for the gun and whatever else feds found in the house, he will have to answer those questions upon his return home.