Lil Wayne's highly anticipated new album "Tha Carter V" tracklist has surfaced, but we are still without a release date.
Lil Wayne fans were expecting him to release his long-awaited new album "Tha Carter V" on Friday, but the project is still not forthcoming. Instead of some new music, we got a leaked tracklist which and still no official release date. The burning question still remains, when is "Carter V" dropping? We don't have the answer to that question, and Weezy and his team over at Young Money have been radio silent about it.
We're still at the same place we were at two years ago, with only promises that the album is coming soon. As for the authenticity of the leaked tracklist, it came from a reputable source. Producing duo, Cool & Dre, have also confirmed that the tracklist is authentic. Nevertheless, this tracklist has been making the rounds on social media since Thursday, and no one from Young Money or Cash Money confirmed it.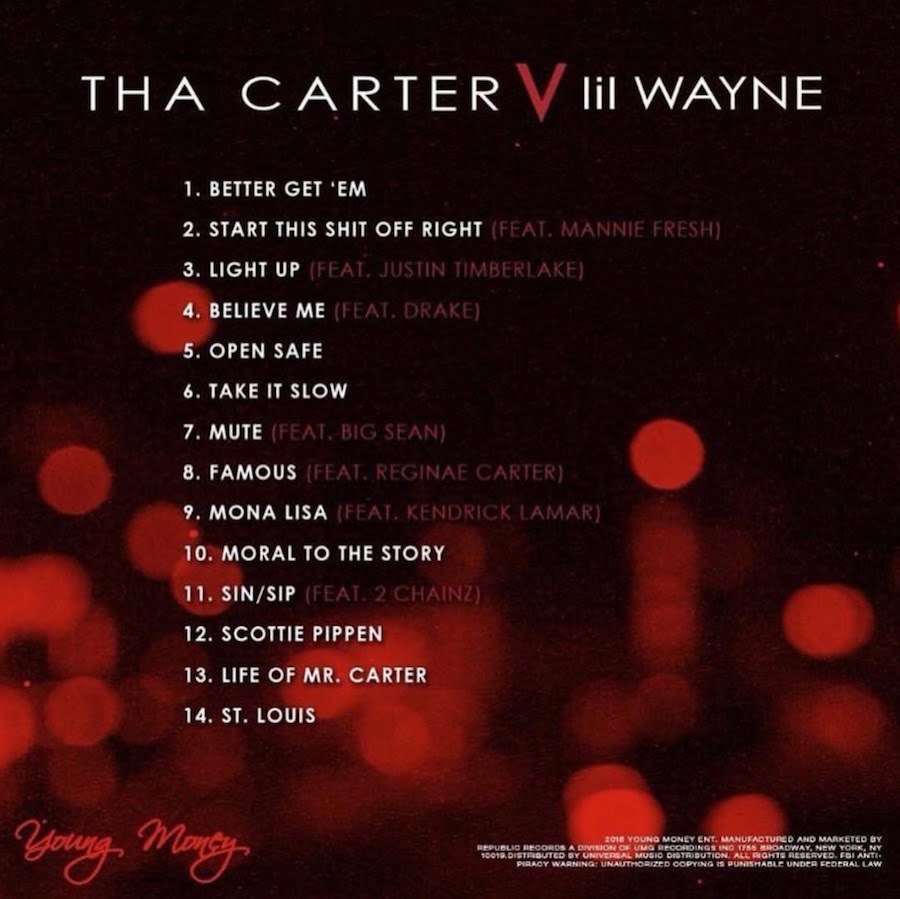 The tracklist revealed that "Tha Carter V" will comprise of 14 tracks with guest appearances from Mannie Fresh, 2 Chainz, Reginae Carter, Kendrick Lamar, Drake, and Justin Timberlake. There are some rumors that Nicki Minaj will be featured on the album, but she is not on this tracklist.
As for the new delays, perhaps Lil Wayne decided to go back in the studio to make the album more for the current time. After all, some of these tracks were recorded from way back in 2012. Perhaps the album just needed a little refresh. So if I should make a wild guess, it will be worth the wait.
Weezy's daughter Reginae Carter also got featured, and she has been posting clips of herself listening to her dad's music while teasing Carter V. The album will come soon, so just sit tight and check with Urban Islandz for regular updates.