Shenseea says she is the dancehall princess, but Popcaan thinks otherwise.
Popcaan is getting some backlash on social media for taking a jab at Shenseea who has taken on the role of the princess of dancehall, and of course Spice the Queen. The Unruly Boss is clearly not a fan of the "Lodi" deejay, or perhaps he is just trolling her. Shenseea made a post on Instagram over the weekend where she praised Spice following a show where the two ladies performed.
Shenseea praised Spice for doing something that a lot of other artists wouldn't do, and as such, her respect for her just increased in value. "In the middle of my performance she walked in, and some of her #Smurfs saw her and started to create excitement!" she wrote. "She literally STOPPED until I finished my song to avoid any disturbances..and for that my Team and I have a different level of respect for you @spiceofficial."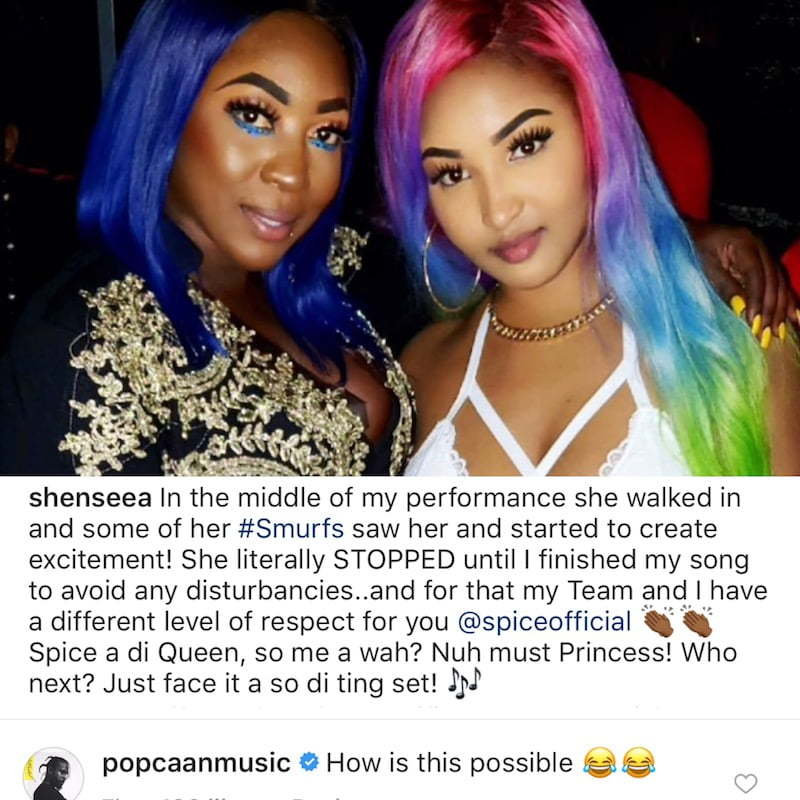 Shenseea then called Spice the dancehall queen and herself the princess. "Spice a di Queen, so me a wah? Nuh must Princess! Who next? Just face it a so di ting set!" she said.
Popcaan didn't agree with that statement and left a comment saying, "How is this possible." He also added two laughing crying emojis which means he is either laughing at her for proclaiming the title or just trolling.
Nevertheless, Shenseea fans, aka Shenyengs, weren't too happy about that and they did let the Unruly Boss know. "It look like Popcaan want to be the dancehall princess or something just get lost and leave Shenseea out a yo mouth," one fan said while another added, "Me use to rate Poppy but me see him a turn into a bad mind artist like Beenie Man, do your thing Shenyeng you will be the queen at the rate you're going."
"Popcaan me no rate da move ya because man shouldn't a fight woman in the business remind me of when renta dread Beenie did diss Spice," another Shenseea fan said.