Nicki Minaj is getting trolled for what her fans call "stiff twerking" in a pool to a dancehall classic.
Nicki Minaj is currently on vacation in the Turks and Caicos and it seems she is having the time of her life. The Trinidadian rapper posted a video of herself twerking, or as her fans would say, attempting to twerk in a pool. Admiral Bailey's dancehall classic "Gimme Punanny" was blaring in the background. Her Caribbean fans were having a field day with the clip and she spends most of the day yesterday clapping back.
"Nicki coming through with that stiff old lady wine smh, girl if you don't stop doing the most," one fan wrote. Nicki Minaj claps back saying, "You look like a raccoon with a receding hairline, hit up Doctor Wu for them dark circles. I'm living my best life out here in Turks. Would you like me to purchase a few of them wigs so you can go on one too? Nah it's all love sis."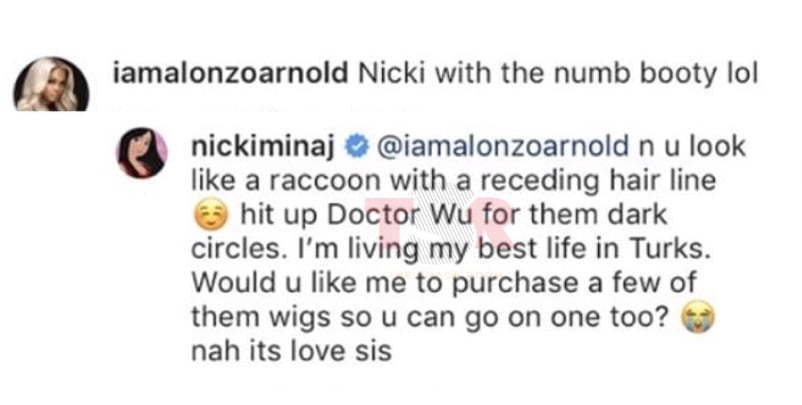 Clearly, Nicki Minaj was feeling like getting trolled and not respond so she put on her clap back cap and wore it well. She received a round of applause from some of her loyal fans for giving her critics the proper response.
"She out here making old woman waves this is Classic and you f***ing up my childhood memories with them BS moves. FOH. come check me I show how to get your groove back Stella," another fan wrote while another one added, "It hurts to see an island girl gone stiff."
Nicki Minaj was celebrating her new single "Bed" being the number one most added song on Urban Radio and her new music video with Ariana Grande being a big hit. Nicki is currently readying her forthcoming album Queen, due on August 10th.